Notes From The Road: Cycling in Guadeloupe
by Andy Levine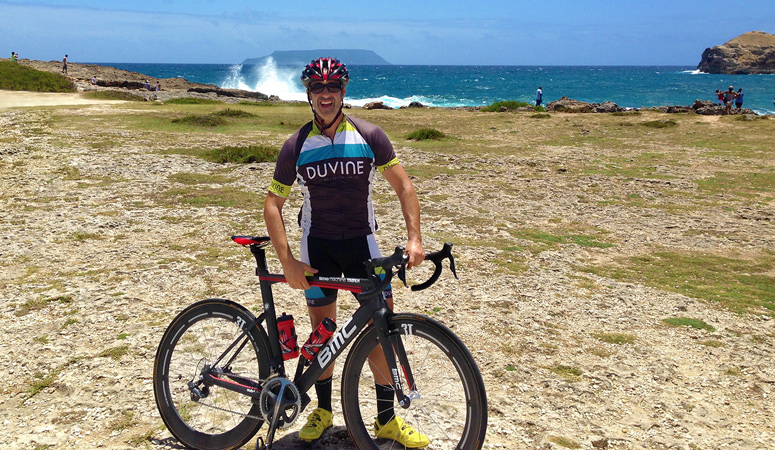 Over the years, I've heard the West Indies is home to a tropical cycling paradise of smooth asphalt and rich biking traditions. This month I traveled to Guadeloupe to visit the French territory and see what the commotion is all about.
The island of Guadeloupe, as you probably know already, is not an immensely popular tourist destination. I was told they only receive five thousand visiting tourists from the United States each year. That many people arrive in Paris before ten in the morning – every day. The lack of American tourists was a little surprising because the flight wasn't as difficult as I expected. After departing from Boston I had a three hour layover in Puerto Rico and landed in Guadeloupe without any delays or issues to report. The islanders were very welcoming from the moment we got off the plane. They are hard working, down to earth, with a French attitude and Caribbean vibe.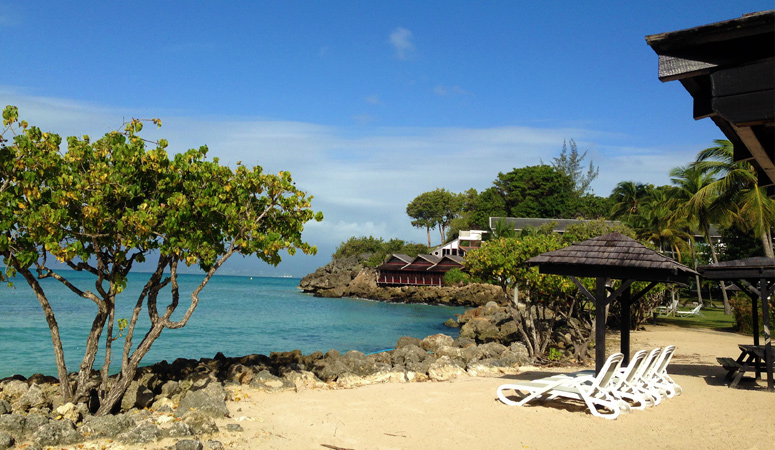 During the trip, high August heat was in effect. Temperatures maintained 90° and humidity was around 90%. It took a day to acclimate to the sweltering weather. The air was heavy and palpable. Ideally, I'd suggest visiting Guadeloupe during February or March when things cool down, but I was determined to explore the island anyway. Luckily my hotel was a comfortable and accommodating place to escape the heat and relax when we weren't riding. There is no lack of really nice places to stay near the waterfront with spectacular views of crystal blue water.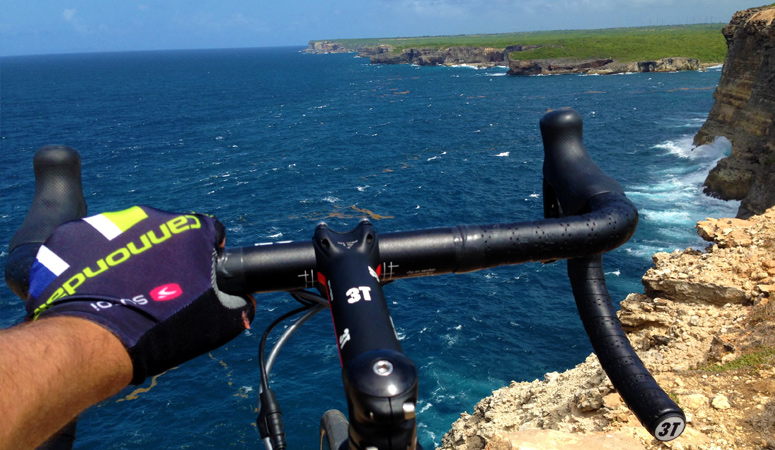 The island's diverse terrain provided a solid five to seven days of cycling. The butterfly shaped island of Guadeloupe boasts mountains and steep hills on the western Basse-Terre. While Grande-Terre offers scenic farmlands, filled with goats, cows, and rolling hills. Cycling is one of the top pastimes for local islanders. While visiting, the 64th Le Tour de Guadeloupe was underway – a ten-day stage race indicative of the widespread local support of bike racing. The roads are paved, traffic is mostly light and drivers pull over, slow down, and cheer you on as they pass.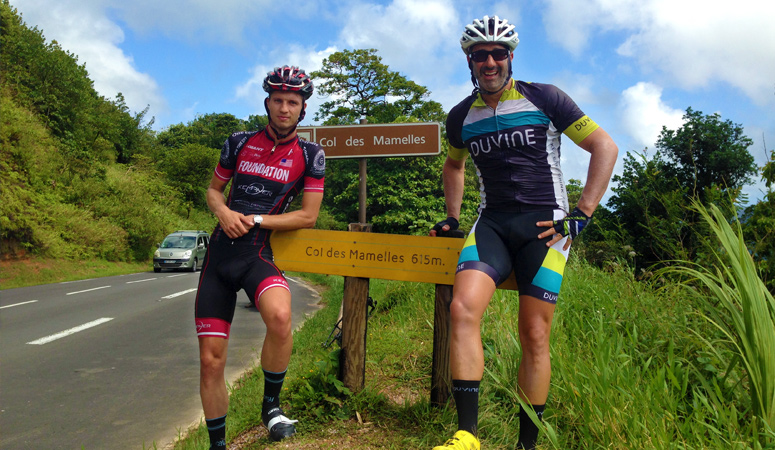 One big highlight of the trip was cycling up the nearly five-thousand-foot volcano, La Grande Soufrière on Basse-Terre. This 10-mile section of our 45-mile route was straight up the side of the volcano with steep inclines and epic views. After the ride, while sucking in as much sun-soaked air as I could, I felt like the island's shape was more akin to a pair of lungs because I was absolutely exhausted. Climbing an active volcano is worth the trip to Guadeloupe and a must do for anyone seeking a thrilling cycling experience.
Scenic riding continued on Marie-Galante, a small isle south of Guadeloupe. The terrain is more flat and makes for great riding along the seacoast.
A delicious grilled fish and ice-cold beer is the perfect ending to the day in Guadeloupe. The seafood on the island is fresh and served overlooking the deep blue Caribbean waters. Just watch out for the hot peppers! My first night I accidentally ate what I thought was a harmless jalapeno and it set off a five-alarm fire in my mouth. My only comfort was hoping that I learned the hard way so others won't have to.
By trip's end I was impressed with the real Caribbean experience I found on Guadeloupe. As far as islands go, it's not well known, but it should be. We had a few great rides, the local people are extremely kind, hotels are accommodating, food is fresh, beer is ice cold, and the local rum is fantastic. I was happy to finally experience what the island is all about.