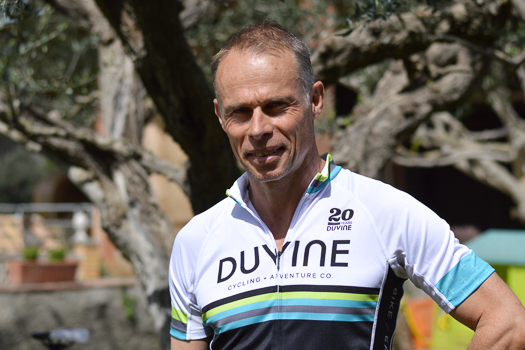 Vincent Reboul
Bike: The pristine roads of Burgundy
Eat: Domaine des hauts de loire
Drink: Grand echezeaux Grand cru 2006 - The Pinot noir at its best
Sleep: Bernard Loiseau in Saulieu on the Burgundy tour
Meet me on these tours:
---
Vincent Reboul lives in the Burgundy region of France, close to the village of Arbois in the Jura wine region – famous for producing vin d'arbois, vin de paille, and vin jaune. Vincent's family history is rich in its connections to the world of wine. His great great grandfather is Charles Heidsieck, a 19th century French Champagne merchant who founded the Champagne firm Charles Heidsieck in 1851. He is credited with popularizing Champagne in the United States and was known as "Champagne Charlie" during his stay. This passion for wine has transcended generations, with Vincent carrying on the tradition. Cycling is also one of Vincent's passions, so it is no surprise that he makes for an excellent DuVine guide. Vincent's other interests truly run the gamut – ranging from subjects like Tibetan Buddhism to skydiving – and without a doubt, he declares himself a "curious traveler". He truly enjoys sharing his wealth of knowledge, love of people, and, most importantly, love of France with others.
Join us, and Vincent, on your next bicycle tour of a lifetime.
close