Top 10 Private Bike Tour Destinations
Sybille Steiner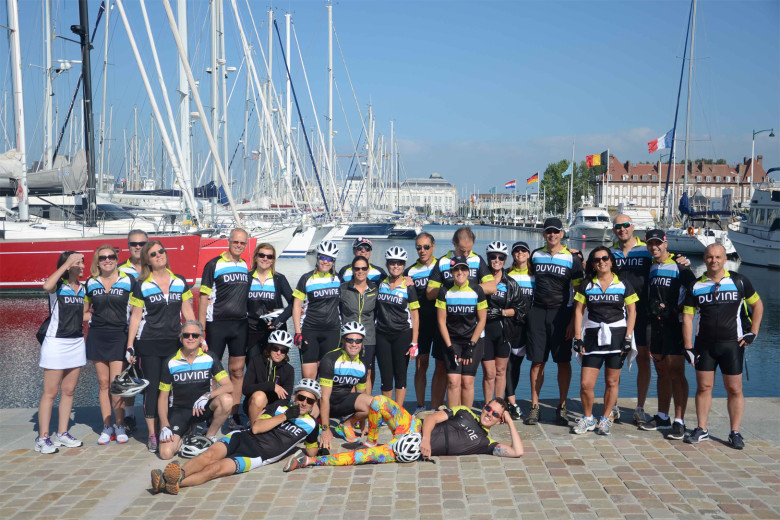 Private bike tours are more popular than ever. When the details are up to you—exactly where, when, and with whom you want to travel—a trip can transform into the experience of a lifetime. The following tours highlight our most popular scheduled departures for going private. A Premier Bike Tour is another excellent option for a memorable vacation, or let these tours inspire a custom itinerary that's entirely your own.

SUPER TUSCANY BIKE TOUR
Explore the iconic Italian countryside as you ride through its gentle green hills and cypress-lined byways on the Super Tuscany Bike Tour. Take an exclusive cooking class in an Italian kitchen that has served generations. Discover medieval fortresses and Renaissance masterpieces. You'll never forget the scent in the air as you ride along the ridges of the Crete Senesi, the taste of Brunello poured at a renowned vineyard, and the streets of San Gimignano lined with stores selling cinghiale sausages. Savor local treats like fresh pici pasta, pecorino cheese, and garden-fresh bruschetta with local olive oil, and sample the finest Super Tuscan, Vino Nobile, and Chianti Classico wines.
---
CROATIA BIKE TOUR
Join us on the Croatia Bike Tour and cycle along the stunning shorelines of the Dalmatian Coast. Climb through lavender fields on the island of Hvar. Visit charming ancient fishing villages in Korcula. Explore beautifully preserved medieval cities and UNESCO world heritage sites. Boat from island to island, experiencing the Adriatic by road and by sea on this cycling vacation. Take with you the memories of wandering Dubrovnik's narrow and storied streets, an evening dining at a local konoba, or the spectacular vistas that surround you.
---

PROVENCE BIKE TOUR
Cycle through vineyards and cherry orchards on our Provence Bike Tour. Ascend winding roads to farmers markets in medieval villages and stroll through charming rural towns. Explore ancient abbeys and taste the world's best olive oils. Marvel at the views from the ruins of the Sade family château in Lacoste, savor the thrill of riding down from Gordes, and taste truffles and wine in the village of Menèrbes. Culinary delights on this itinerary include sumptuous reds, whites, and celebrated rosés of Provence, and unforgettable meals that feature Provençal specialties prepared by some of the region's most prominent chefs. Pamper yourself at the L'Occitane Spa and leave refreshed at the end of an exhilarating week.
---

MALLORCA BIKE TOUR
Riders of all different abilities can test their mettle on peaceful, paved roads with sweeping views of the light blue sea on our Mallorca Bike Tour. Climb high into the UNESCO-protected Tramuntana mountain range and experience the thrill of an exhilarating descent. Wander the sandstone streets of ancient Deià and savor fresh Mallorcan specialties like delicately flavored prawns caught just that morning. You'll be amazed by the island's unique wines, produced from varietals only found here, and you'll feel like royalty at every one of our luxurious hotels such the outstanding Castell Son Claret, exclusive to DuVine.
---

LOIRE VALLEY BIKE TOUR
Cycle through a land of enchantment, with regal châteaux dotting the countryside at every turn on the Loire Valley Bike Tour. Wander quiet roads amongst acres of fertile land and orchards of fresh fruit. Step back into the Renaissance and a time of kings and queens. Exploring the Loire Valley by bike brings you face-to-face with this magical region and into its subterranean troglodyte cellars, enchanting châteaux, and medieval villages. Indulge in local delicacies like foie gras in Amboise, eat straight from the garden at Château de Villandry, and taste fascinating wines in Vouvray. We'll feel like royalty ourselves.
---

CHILE LAKES + VOLCANOES BIKE TOUR
Cycle along the coast of Lake Panguipulli on our Chile Lakes + Volcanoes Bike Tour, one of the most unique ways to experience all Chile has to offer. Relax with a soothing soak in the Huife hot springs. Learn about the unique plants and wildlife on a tour through the Huilo-Huilo Biological Reserve. Named for the deep freshwater lakes that dot the landscape and snowcapped volcanoes that dominate the horizon, Chile's Lakes and Volcanoes region is a naturally spectacular location for a bike tour. You'll be treated to stunning views of the Choshuenco volcano, an unforgettable meal at Rancho Espantapajaros, and the chance to fly high over the rainforest on a canopy tour.
---

BORDEAUX BIKE TOUR
Cycle through endless acres of vineyards from the Dordogne to the Gironde on a Bordeaux Bike Tour. Contemplate a bold Cabernet Sauvignon in the Médoc or a smooth and fruity Merlot in Pomerol. Learn from the masters in one of the premier wine centers of the world, tasting their finest vintages as you cycle from one renowned estate to another. A true oenophile's paradise, this cycling tour in Bordeaux features picturesque routes that weave between grape vines, along the Dordogne, and through enchanting medieval cities like St. Emilion. Indulge every night in the perfect meal to accompany your outstanding vintages and unwind in complete luxury in regal châteaux.
---

PORTUGAL BIKE TOUR
Our Portugal Bike Tour takes you over gentle hills and through unspoiled green and gold landscapes. Explore winding vineyards, rows of gnarled cork trees, and ancient villages perched on hilltops. Marvel at the sights in Vila Viçosa, the marble capital of Portugal and site of the glorious Ducal Palace. Journey through the ages with a stay at the Convento do Espinheiro, a converted fifteenth-century convent, and visits to ancient megalithic sites. Discover quaint pottery shops in Redondo and hand-stitched tapestries in Arraiolos. Culinary delights abound on this bike tour through the breadbasket of Portugal, with grand meals, exquisite local meats and cheeses, and a complete exploration of the region's staggeringly diverse wines.
---

PIEDMONT BIKE TOUR
Ride along quiet, narrow roads that follow some of Italy's most scenic ridgelines on the Piedmont Bike Tour. Taste the famous bold three: Barolo, Barbera, and Barbaresco. Climb into the vine-covered Langhe hills surrounded by the towering Alps and Apennines. You'll never forget the sweeping vistas overlooking the Dolcetto and Moscato vineyards, your delectable lunch at Gianni and Mina's "hidden" ristorante, or the family welcome you received at Guido's farmhouse. No cycling vacation in Piedmont is complete without experiencing the unforgettable cuisine from the birthplace of the Slow Food Movement.
---

NAPA VALLEY BIKE TOUR
Join us on the Napa + Sonoma Bike Tour as we cycle the rugged Sonoma Coast and ride into the heart of the towering redwoods. Explore the quaint town of Healdsburg. Delight in a tasting of delicious ports at Trentadue winery. Discover spectacular views of endless vines and the Mayacamas Mountains as you ride through the Dry Creek Valley, wake to the sunrise along Doran Beach, and dine at the beloved Jimtown General Store. Luxuriate at the award-winning spa at MacArthur Place. This cycling vacation will have you exploring some of the best wine growing regions of Alexander Valley and Northern Napa, paired with spectacular meals.
---
Learn more about creating a private trip or start planning your tour today.

CATEGORIES: DuVine Style