You take a poll of who wants to go and compare schedules. Someone mentions biking. Perhaps some participants don't bike at all. Maybe one couple has been taking bike vacations for years, while the others like the idea but don't want to ride the Tour de France.
The planning begins, with all its many logistics. Where are you going to rent the bikes? How will you get them to the villa, and how do you pick a villa that's in a good location for biking? If you want to bike to a nearby town for lunch and drive back, are there taxis that will transport everyone's bike? How do you even call a taxi in Italy (or Spain, or France)? What if you have a mechanical problem or other mishap on the road? If you leave the route planning up to the cycling-enthusiast couple, they may plan rides that are outside everyone else's comfort level.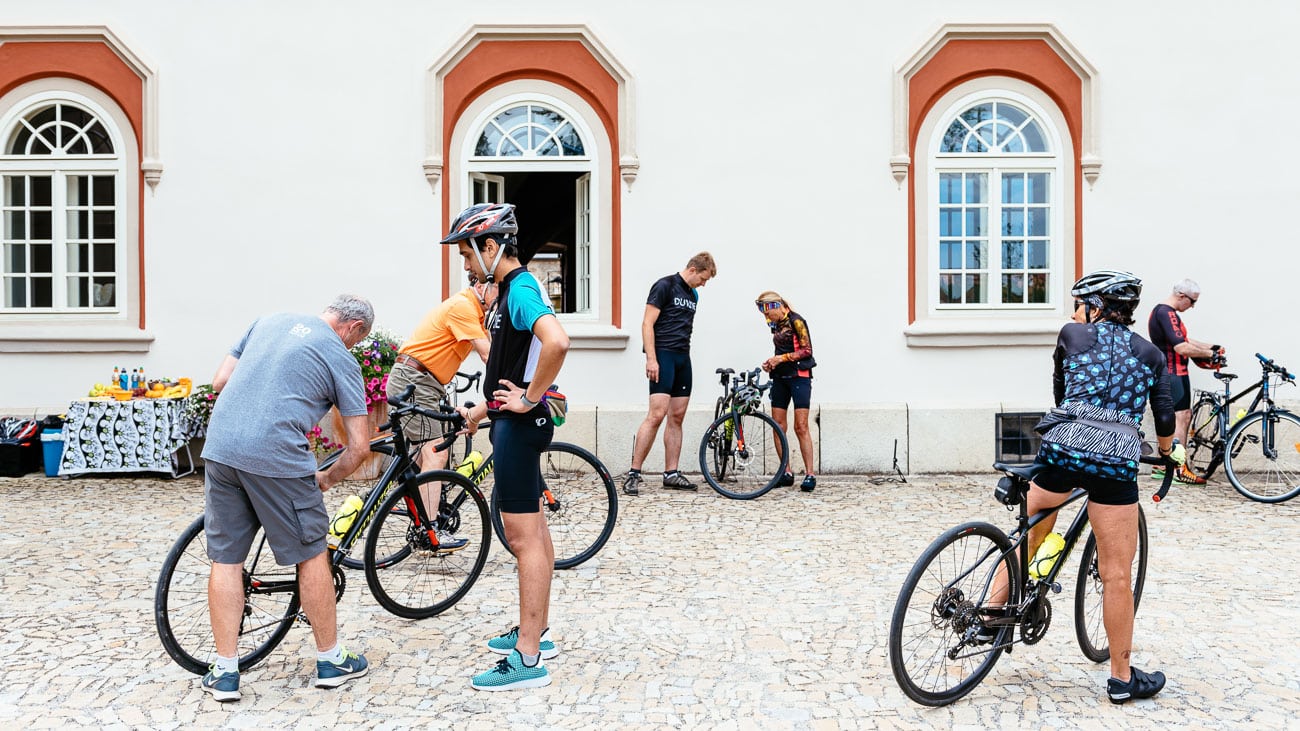 The more you dig into the details, the more daunting it becomes. Planning this trip quickly feels like an overwhelming part-time job—and that's where DuVine steps in. We've worked through all the logistics and complications on a personal and professional level, and we have a better way.
Our Villa Bike Tour itineraries take the worry out of trip planning. We'll help select the perfect accommodations for your group. We'll handle the cycling routes, pick the restaurants to your preferences, find the most authentic local experiences, and hire a private chef. Most importantly, you'll have our local guides to support you—whether that means requesting that last-minute dinner reservation in Italian, running to the pharmacy for someone who forgot a toothbrush, or taking you to the local swimming hole that isn't listed in any guidebook.
How We Choose the Right Villa
There are hundreds of villas on countless websites at various price points. But there's no way to know whether your biking will begin each day from the end of a long dirt road, or isolated in a narrow valley. We'll send you a selection of villas that have been vetted for their ideal cycling locations (in addition to their other amenities). That means you can ride plenty of routes right out the door, with minimal transfers and plenty of interesting villages, activities, and dining options within easy reach.
The Right Amount of Riding
We get it, not everyone wants to ride their bike every day for a week. And if they do, riding ability and interest may differ. Some people are leisurely cyclists while others want to sprint. Ten miles before lunch may be perfect for some and not enough for others. Let us listen to your group's riding ambitions and tailor the plan accordingly with our resources: ride to lunch in a local village together, then choose to shuttle or bike back. We'll secure an e-bike for someone who wants to ride all day, but worries about not keeping up. For independent cyclists, head out with our GPS (and the peace of mind that our support van is always a phone call away).
Are there non-riders in your group? We'll propose a variety of local activities that can be arranged in advance or booked by our guides on a lark during the tour: from truffle hunting to yoga to cooking classes or kid-friendly scavenger hunts, our guides are ready for anything. Even the cyclists in your group may be tempted to take a day off the bike and join in. That's the beauty of flexibility with our Villa Bike Tours.
Getting Meals Right
Having a villa in the countryside is idyllic, but supermarkets where you can shop for a crowd tend to be 30 minutes away. And after a long day on the bike, it's not always appealing to gather everyone up, drive to a restaurant, and linger for a two- to three-hour European dinner. Cooking for a group may be fun once or twice, but it's not everyone's idea of a true vacation.
DuVine's solution brings the local cuisine to you, hiring a private chef for the nights when you want something unfussy. It gives everyone the afternoon to relax, have a glass of wine, and wander into the kitchen as the aromas become irresistible: all the benefits of a restaurant, but totally on your timeline. When you do feel like dining out, leave it to your DuVine guides to book the best local places. We'll be sure to communicate everyone's dietary preferences ahead of time, so every meal goes smoothly.
Tell us what you prefer for breakfasts and snacks—you'll find your cupboards stocked upon arrival and replenished by our guides throughout the week. Lunches are a great time to try local cuisine in village cafés and farmhouses, or let us prepare a light spread or picnic at your villa. (Trust us, our guides are picnic professionals!)
Getting Around
It can't be overstated: getting around in-country is one of the most overlooked parts of arranging a villa trip. Coordinating everyone's travel plans is a headache of planes, trains, and automobiles. Instead, the DuVine team is on the ground and ready to pick you up at the airport or train station. You don't have to worry about renting cars or vans, driving those famously tiny roads, mapping the directions, finding parking in medieval villages, or acting as a designated driver while everyone else enjoys the wine.
Booking advance transfers with a private car or taxi company takes away the joy of spontaneity—with everything scheduled to the minute, your vacation can resemble a conference more than a carefree retreat. DuVine champions flexibility, and it's our job to relieve the confusion and chaos that can come with unassisted travel. Your guides are at your service to support daily rides, run errands, and shuttle the group to meals or activities.
The Right Amount of Flexibility
It's a challenge to strike the right balance between spontaneity and careful planning, made even more difficult by the gathering together of so many individuals. It's hard to know what everyone will feel like doing once they're there. But if you don't make arrangements, you risk missing out on something wonderful (or worse, spending your vacation stressed about making it all work). Travel websites review hundreds of restaurants, food tours, wine tastings, sculpture parks, falconry lessons, museums, and more. It's information overload.
Our Trip Planners work with you to develop a game plan and gather ideas about what everyone wants to do. Your itinerary is not fate—it's always flexible. There's no need for an hour-by-hour schedule, but we'll help give your trip structure and steer you towards only the most worthwhile activities. And when family or friends can't agree on what to do, a guide with an appealing plan for the day is a godsend. Who can say no to a bit of stress-free cycling, beautiful scenery, a home-cooked lunch at a local's farmhouse, and an afternoon capped off with gelato in the local village?
When it's all said and done, the whole reason for your trip is to spend time together. A fully supported vacation ensures that no one bears the brunt of planning, and brings the focus back to enjoyment and togetherness. The DuVine Villas team will handle coordinating down to the last detail—before you even realize there's something to think about.