They take you to places you never thought possible, both physically and mentally. They add as much life to your years as they do years to your life. And, of course, at their core, they're about exploring and understanding a bit about parts unfamiliar, those wild and scenic spots on few to-do lists.
The DuVine Dolomites Journey starts near the village of Aprica, in the Lombardy region of Northern Italy, near the base of the infamous Passo Mortirolo in the Alps. We then climb over the gargantuan Passo dello Stelvio, skate through the Adige Valley to Bolzano, and climb into the heart of the Dolomites before escaping into Slovenia. Finally we zigzag across vineyards until plummeting to the edge of the Mediterranean Sea in Trieste.
Over seven days, the group, which includes guests from their mid sixties to their early thirties, from all walks of life (including one famous chef, Seamus Mullen), rides about 400 miles and gains approximately 45,000 feet in elevation. (Slight variations in skill levels lead to a few bonus miles and climbs for some; my Garmin has me at 425.1 miles and 48,841 feet.)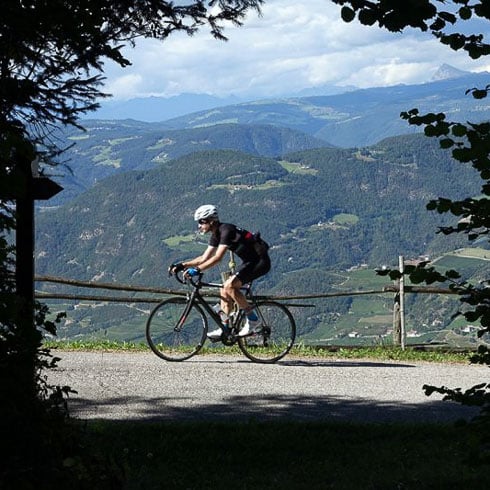 We cross through fundamentally different cultural enclaves, drastically different climatic conditions, through fragile ecosystems and urban landscapes, past the quaintest of villages and over some of the greatest, hardest, and most historic climbs in cycling history. Every inch of it by bike, point to point to point.
Physically, anyone of any fitness level would find the days both long and rewarding. Others even more so. The food each night? On average it's spectacular and always plentiful. But this isn't the Italian cuisine you're most familiar with. The pasta is hidden by the prosciutto, the pizza margherita obscured by the piles of speck. There is a definitive Germanic influence to this part of Italy.
The characters in this story are real, though their names have been changed to protect their identities. (What happens on a DuVine trip stays on a DuVine trip.) The stories are real, and have never been embellished for effect. The places are most certainly real; you can't improve upon what must be one of the most divine cycling arenas on Earth.
Let the journey begin.
Read the full article as it originally appeared in VeloNews.