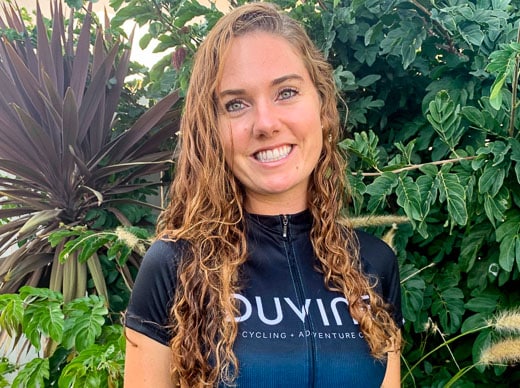 Bike
L'Etape California and climbing up Mt. Baldy!
Eat
A burrito from one of the many taco shops in Southern California
Drink
A nice GSM from Santa Barbara County
Sleep
FivePine Lodge in Sisters, OR—luxury cozy cabins in the forest!
Hayley grew up swimming and running, and got into cycling after joining a triathlon team and deciding to train for an Ironman. Since then, she's completed 2 Ironmans and cycling has become her favorite of the 3 activities! She loves training for Ironman as well as for local cycling fondo events.
Hayley studied Environmental Management and Protection at Cal Poly San Luis Obispo—needless to say, she loves nature and being outside. It wasn't until a couple years after graduation that Hayley discovered a passion for nutrition, particularly sports nutrition. In 2019, she became a nutrition coach and started her own business, Native Vigor Nutrition, where she coaches and meal preps for clients.
It makes Hayley incredibly happy to be outside in beautiful destinations riding bikes, preparing healthy picnics, and just having a good time biking, eating, and drinking with guests.