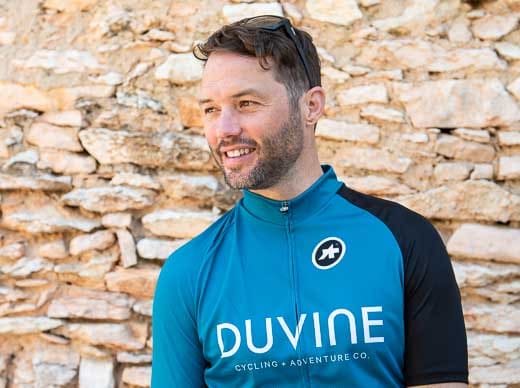 Trip Designer + Tour Guide
Jimmy Scanlan
Bike
The green hills of the Basque Country
Eat
Almost any dish from Southwest France
Drink
Pinot Noir from Burgundy—nothing compares!
Sleep
Waking up in Provence to the sound of cicadas
From a young age, Jimmy was fascinated with the world and its many cultures, languages, and histories. After living in a number of different states across America, he eventually found himself at Arizona State University where he studied Spanish and Education. It was there that he embarked on his first excursions out of the United States to North and South America. Eventually, his travels took him to a number of countries in Europe, including Spain, where he would meet his future wife.
For the last eight years, Jimmy has been guiding cycling tours in Europe with a focus on France and Spain. His love of sharing wine and cycling has led him to pursue further training and education in both. He is certified as a Level 2 British Cycling Coach and with a Level 3 WSET Wine Education. When not cycling and sharing the wine, cuisine, and countryside of Europe, Jimmy resides in London with his wife.