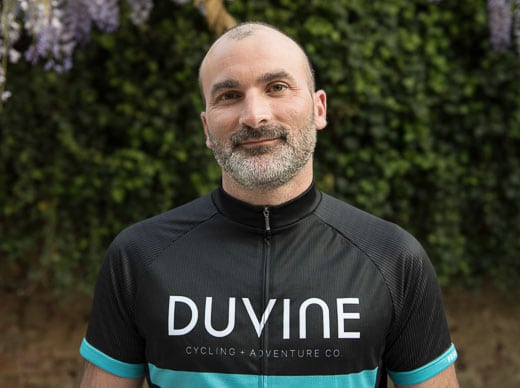 Trip Designer + Tour Guide
Michael Eloy
Bike
Touring around Iceland on my bike—one month alone within the elements!
Eat
Filet of duck breast covered with honey and served with wild mushrooms
Drink
Mostly Syrah wine from Côtes de Rhône—I love visiting small producers
Sleep
In a good sleeping bag on top of Stromboli volcano to witness the spectacular eruptions
Michael lives in Lyon, Rhône-Alpes, well-known for its gastronomy (Paul Bocuse is a chef there) and famous nearby wine (Condrieu, Saint Joseph, and Côte-Rôtie). After spending his childhood in Provence, Michael moved to England for his Chemistry studies and spent his next six years working there. He then moved to the Dominican Republic to work as a PADI Scuba Diving Instructor. Following these amazing life experiences abroad but still missing his home country, Michael moved back to France and settled in the little village of Mouriès in the heart of the Alpilles, Provence. He enjoys cycling in the sunny and picturesque countryside as well as finding time for his other favorite sports like hiking, climbing, and paragliding in the hills nearby. Michael is delighted to share his in-depth knowledge with you on DuVine's bike tours of Provence and beyond.