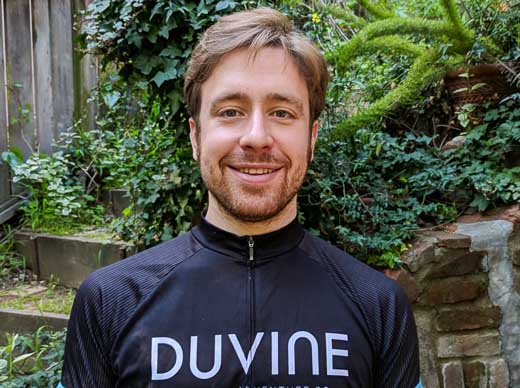 Bike
Across the USA and in Japan in the fall—wherever the countryside roads are tranquil and off the beaten path
Eat
Fully converted Californian: kale salads, brussel sprouts, and dark chocolate for dessert
Drink
Espresso in the morning, craft beer on a hot day, and Zinfandel with dinner (Russian River Valley is always great)
Sleep
Futon on the floor—simple and comfy
Rob began cycling while attending The Eastman School of Music Conservatory, where he studied classical guitar and education. He first picked up an old 10 speed as a way to get around campus and town, but quickly fell in love with riding as a way to explore the area. Rob went on to join the collegiate cycling team and moved to Austin, Texas to pursue bike racing as a Cat 2 racer.
In summer 2014, Rob led a non-profit cross-country bike group called Bike & Build, where 30 young adults road east to west across the US while raising money, spreading awareness, and building affordable housing. He went on to teach music at an international school outside of Tokyo near the North Alps of Japan. There, he fell in love with riding the Japanese countryside and has since returned each fall to lead tours.
Over the last few years, Rob has lived in the Italian Alps, chased the TDF, backpacked through China, biked the length of Taiwan, and traveled the south island of New Zealand. When not traveling or leading bike tours around the best corners of the world, Rob can be found teaching music lessons via Skype to his studio of students who call in from around the world each week—from Tokyo and Austin to Rome and New York.