What inspired you to start DuVine?
After college, I took a solo cycling trip in Burgundy, France. I rode my bike endlessly through villages and vineyards. I learned about the Pinot Noir and Chardonnay grapes and met a cast of local characters; real people who inspired me with their passion. I am still friends with many of them today. When I got home, my parents wanted me to get a job. All I could think about was how I wanted to go back. I wasn't thinking about making money—I wanted to be on my bike, and I thought it would be cool to give other people the same experience. My dad is an entrepreneur and agreed to loan me $2,000 to live on while I tried to create something out of my idea.
Who were your first guests?
DuVine's first-ever guests were a couple from Michigan on their honeymoon. The internet was just taking hold, so I created a website. I was living at home and my mother would answer the phone. They sent me a check by mail and I bought a ticket to France. In 1993, people weren't buying travel on the internet, so when I picked them up at the train station they were relieved it wasn't a scam. We spent six days riding from village to village along Burgundy's Côte d'Or. We tasted wine and I showed them all of the things I loved about the region. The three of us had a fabulous time!
What were the early days like?
In the early days, the company was called "Du Vin," meaning "some wine." After that first tour, I rented a room in a family-run hotel called Hotel Bellevue in Beaune. The toilet was electric, the internet connection was a painfully slow dial-up, and my room was a shoebox. But the owners of the hotel treated me like family. Their son, Chef Arnaud, cooked for me every day, and between meals I snuck into the kitchen to snack on cold potato gratin. It was from there that I planned the next six tours.
Did you guide all the tours yourself?
Yes, for the first few years, I led all the tours myself and with a friend, Caroline Ware. I eventually hired my first two guides, Chelsea and Catherine. I'll never forget when I boarded the train and left them to lead their first tour. It was like leaving a baby for this first time. I watched them pedal away with a happy group and trusted that the tour would run smoothly once I stepped away. To this day, our guides are the anchors of every experience. And the trips are way better without me guiding!
Tell me more about these local characters!
In the early years of scouting for tours, I met the Comtesse de Loisy. She lived in the center of Nuits-Saint-Georges in a Louis XIV-style home. I went and knocked on her door. During my first visit, surrounded by her priceless antiques, she told me stories in impeccable English about what is was like to be one of country's first female winemakers. Later, as my visits with the Comtesse became frequent (and even after I opened a bottle of cremant, sending a cork shooting into one of her priceless chandeliers), I asked if I could bring DuVine guests to meet her. As she had when we first met, the Comtesse would sit down with guests over cremant and gougères to recount stories from her winemaking experience and fascinating family history. Since then, we have consistently brought our guests into the homes of locals. It took some confidence to go off the grid back then because it wasn't what other travel companies were doing.
How do you create tours today?
My process for creating tours hasn't changed since the very beginning. It's a simple process. I am always asking "Why are we going here?" I get on my bike and ride all the roads. I am obsessed with beautiful roads. I meet the local people. And I connect the dots so it makes sense. It's all about timing. Also, how things smell is important. I have a sensitive nose and most things I remember in life are about the smell. I smell everything!
What is the most gratifying part of your job?
I love travel and being on a bike—I think it's so important that everyone have the opportunity to travel. I still can't believe I get to do this for a living. For me, it's really about making friends and giving people something they can hold onto and keep with them. The most gratifying part of my job is getting an email or letter from a guest saying how a trip has impacted their life. I got a phone call recently from a woman who lost her husband to cancer. She wanted me to know that the Burgundy tour they took ten years ago was one of her most cherished memories. She described a picture that still sits on her mantle of them at a café in town. I was completely humbled and at a loss for words.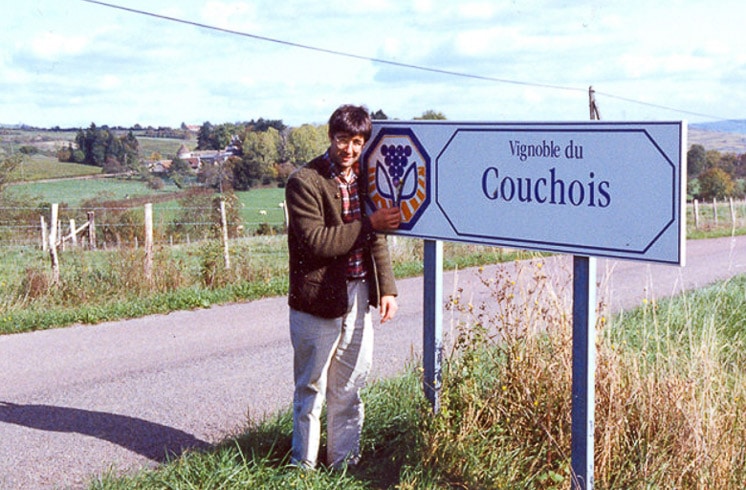 A look at our branding through the years:
Since the very beginning, everything about DuVine has been motivated by our mantra: Bike / Eat / Drink / Sleep. From our gear over the years to our first website, Andy's simple mission has been carried through in iconography, printed marketing, and more.