Time at DuVine: 5 years
Hometown: Berkeley, California
Ride With Alice: California
Bike: Waking in Bodega Bay, cycling north along the coast, through the Russian River Valley, lunch in the redwoods, and the final miles through rolling vineyards to arrive in Healdsburg for a wine tasting
Eat: Pistachio-encrusted tuna at Il Crocifisso with a side of caponata
Drink: A velvety Russian River Pinot in Sonoma, or any of Nicola's wines from Tenuta Santa Maria Valverde at his home in the Vapolicella
Sleep: The converted Castello Camemi in Sicily, with views of Mount Etna
After majoring in History with a focus on food culture at Yale and a stint at an organic farm and catering company, she returned across the pond to Rome. Cooking and studying at the Rome Sustainable Food Project eventually led her to becoming a DuVine guide—first in Italy, and today in California.
What led you to Italy?
I was intent on going abroad when I was in high school. My parents were both well-traveled, since my mom's father was a diplomat and my father's father lived in Greece to pursue Classics research. My parents both spoke a few languages, and their conversations and travel stories inspired me to immerse myself in another language as well.
During my sophomore year of high school, I moved to a small Italian town of 12,000 people, attended an Italian high school, and lived with a host family. I didn't speak a word of Italian going into the experience, but I considered myself fluent after three months of living there.
After college, I applied to the Rome Sustainable Food Project, and returned for a three-month food apprenticeship at the city's American Academy. With three other apprentices, I worked in the kitchen five days a week, 10+ hours per day, preparing seven-course lunches and three-course dinners daily.
So you have a deep connection to food?
I quickly realized while in Italy how different meal culture is from what I was used to in the United States. In rural Italy, kids and adults alike leave work and school at 1 pm every day to share a home-cooked lunch together, and the same is done for dinner. Families prepare fresh and healthy food and dine in the company of others.
My own parents followed 90's food fads that said fat is evil and salt is bad, so I was raised on frozen vegetables steamed within an inch of their lives. I thought that I hated "healthy" food, but in Italy I found a new appreciation for vegetables properly prepared: with high-quality olive oil, salt, and a squeeze of lemon.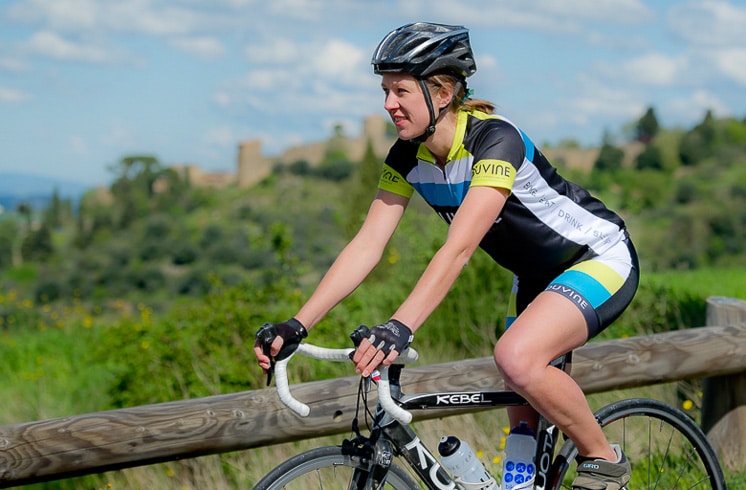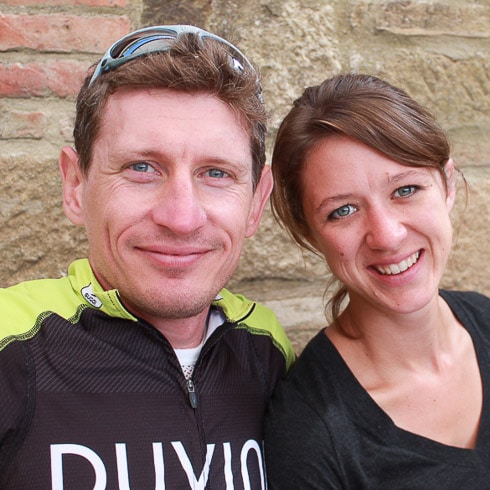 How do you think travel, food, and cycling intersect? 
The sense of immersion that was so essential to learning the language applies to traveling by bike, too. You see everything at a perfect pace and notice every detail around you. You're not confined to a car or bus, so you can stop and meet someone harvesting olives and eat a handful right from the tree or chat with a shepherd bringing his sheep across the road—you're right on their level and constantly absorbing sights, sounds, tastes, and smells.
Now you're back in California. Tell us about returning home to lead tours. 
After four seasons guiding in Italy, DuVine asked me to return to California to launch a new program of tours. My time in Italy was wonderful, but it can be easy to overlook the appeal of your own backyard, so I'm proud to show off California with all its unique cycling opportunities.
What are your favorite tours to guide or ride? 
California is so young compared to Europe—there's still so much open space and rugged nature untouched by civilization—so you can cycle along sea cliffs, through redwood forests, and into rolling hills of vineyards in a single, incredible day.
Why DuVine?
DuVine entrusts its guides and staff to truly shape the best tours possible. Guides have freedom to be creative and make decisions on the ground that stray from the itinerary but improve the experience for each group. Sometimes the most treasured moments of a tour come from the exposure to authentic local experiences that only guides can give. That ability to surprise our guests is thrilling, and it makes each tour special. With my  background in food and history, I'm so fortunate to combine all my passions into a single position and share the things I love with others. I can't think of anything else I'd rather be doing.