When asked what coffee, bikes, and beer have in common, former Musette Caffe owner Thomas Eleizegui said, "cyclists always need a fix. It's been in the culture since day one–whether it's coffee, beer or wine." Peter Roper, co-owner of Denver Bicycle Cafe agreed. "There's no denying that the three share a common thread and community," he says.
This common thread is what has inspired the concept of the Cycling Cafe and Biking Bar. These bike-inspired cafes and bars have been popping up all over the country and all over the world, from Ride Studio Cafe in Lexington, MA to Mojo Bicycle Cafe in San Francisco and from Red Lantern Bicycles in Brooklyn, to the popular Look Mum No Hands in London.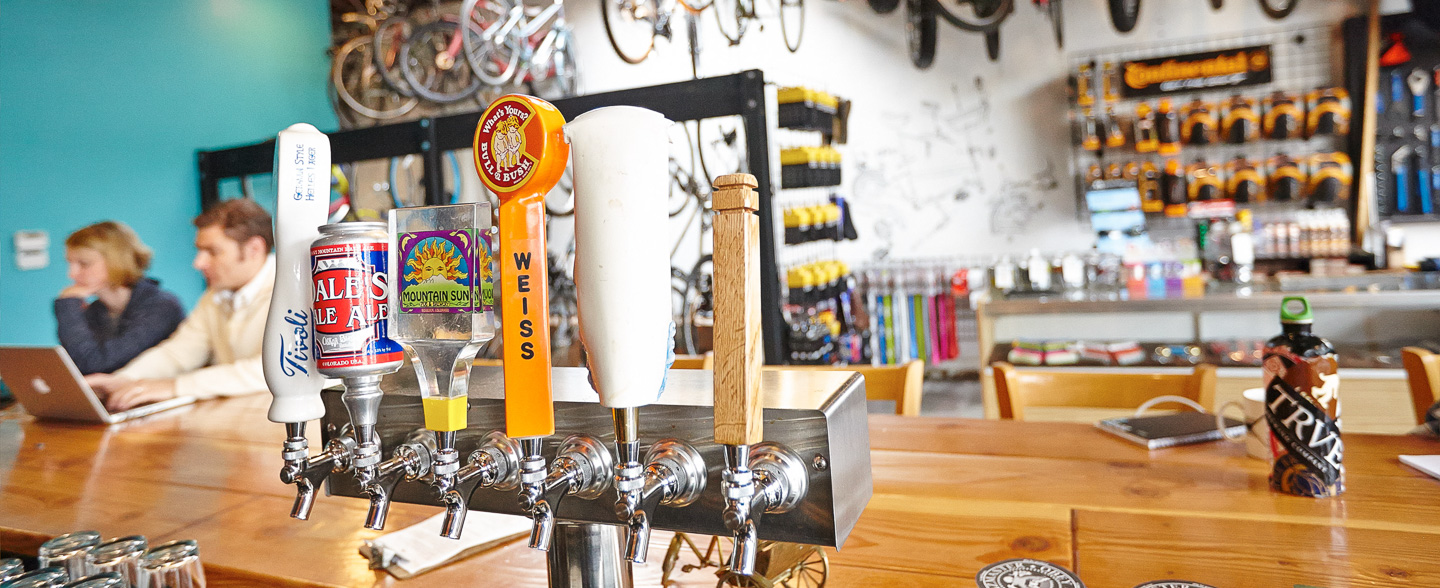 Over the Bar Cafe owner Michael Kotyk says the connection between craft beer and cycling has never been stronger. "Mountain bikers and road riders alike always seem to look for a nice spot for great food and craft beer after a ride."
Some bicycle cafes are coffee shop / bike repair shop hybrids, while others provide a full-service bar and restaurant with a bike-friendly atmosphere and cycling-inspired décor. Whatever the case, these bicycle cafes are hubs in their cycling communities and provide a friendly, welcoming space that encourages the cycling culture and the active lifestyle.
Our friends and small-business owners at Denver Bicycle Cafe, Over the Bar Bicycle Cafe in Pittsburgh, Sedona Bike & Bean, and Musette Caffe in Vancouver share their behind-the-spokes inspiration for their unique bike cafes across the U.S. of A.
DENVER, COLORADO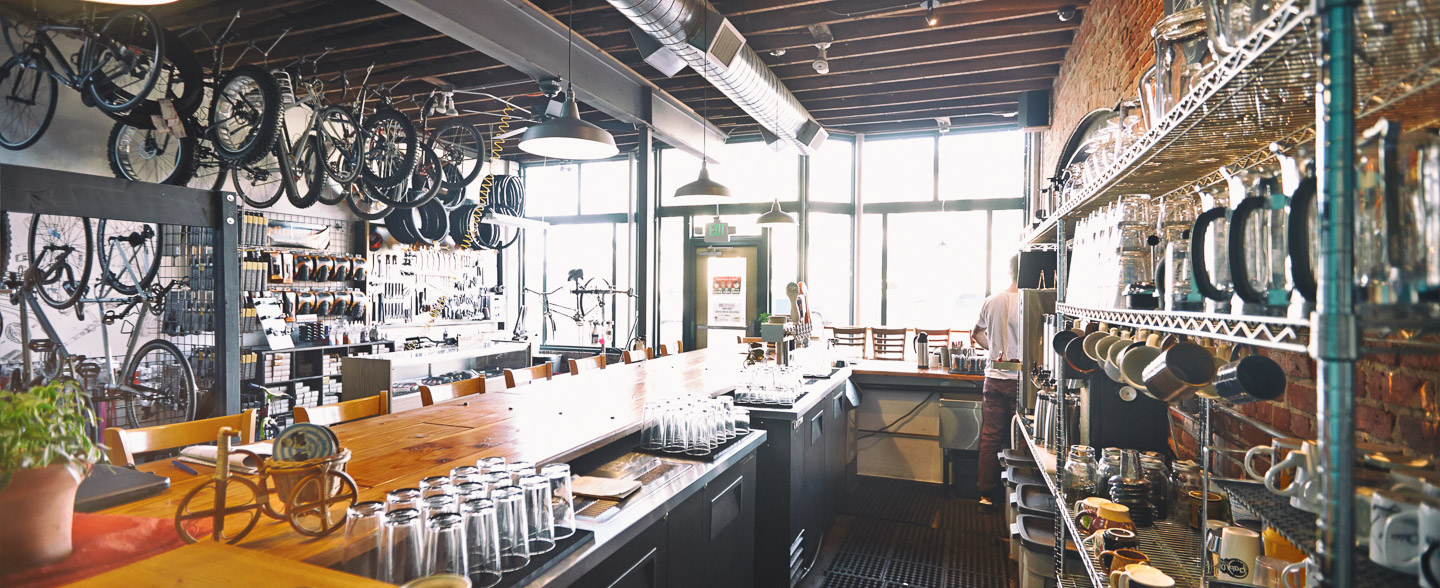 The Concept: An active place with lots of folks doing the usual coffee shop activities and enjoying the freshly made, artisan coffee. At the same time, the bike shop is bustling during the busy months with flats and more serious repairs. "We encourage lots of interaction with the mechanics, so it's not uncommon to see a customer enjoying a beer or coffee while observing the repair," says co-owner Peter Roper.
The Bike Elements: Denver Bicycle Cafe sells custom-built, made-to-order bikes starting with frames from Turner, Ellsworth, Alchemy, Ventana, and Waltworks. They are also a full-service bicycle repair shop, doing everything from flat fixes to full tunes to fork overhauls. No rentals, but they do have select models available for demos.
Denver Bicycle Cafe welcomes everyone from the community to visit their shop, from daily commuters, to road racers, to hardcore mountain bikers, or even non-cyclists and families. "We're here for our community—we've loved them ever since growing up in the area decades ago!" says Peter.
The Cafe Elements: The cafe offers a rotating selection of locally roasted coffee and espresso drinks, from hand-made French presses to pour-over styles and more. "Typically we'll have four or five independent roasters on at a time," says Peter. Denver Bicycle Cafe offers snacks and nutrition bars from Enduro Bites, a local company that makes 400-calorie energy bars in Colorado Springs, and visitors are also encouraged to bring their own food. "Our food selection isn't our primary focus, but what we do feature comes from small local businesses," says Peter. Denver Bicycle Cafe also offers a selection of local craft beers on tap.
The Location: 1308 E 17th Ave, Denver, CO
Denver Bicycle Cafe is a block away from the main westbound bike route in town, and many of the residents in the bike-friendly surrounding neighborhoods own bicycles. They've got ample parking for cyclists and loaner locks for anyone who needs one.
The Owners: Peter Roper was running a cycling program at the University of Colorado, and always had the desire to be a small business owner. "My friend and co-owner Jessica has long-personified the kind of customer service I wanted to have, so the partnership was an obvious fit."
PITTSBURGH, PENNSYLVANIA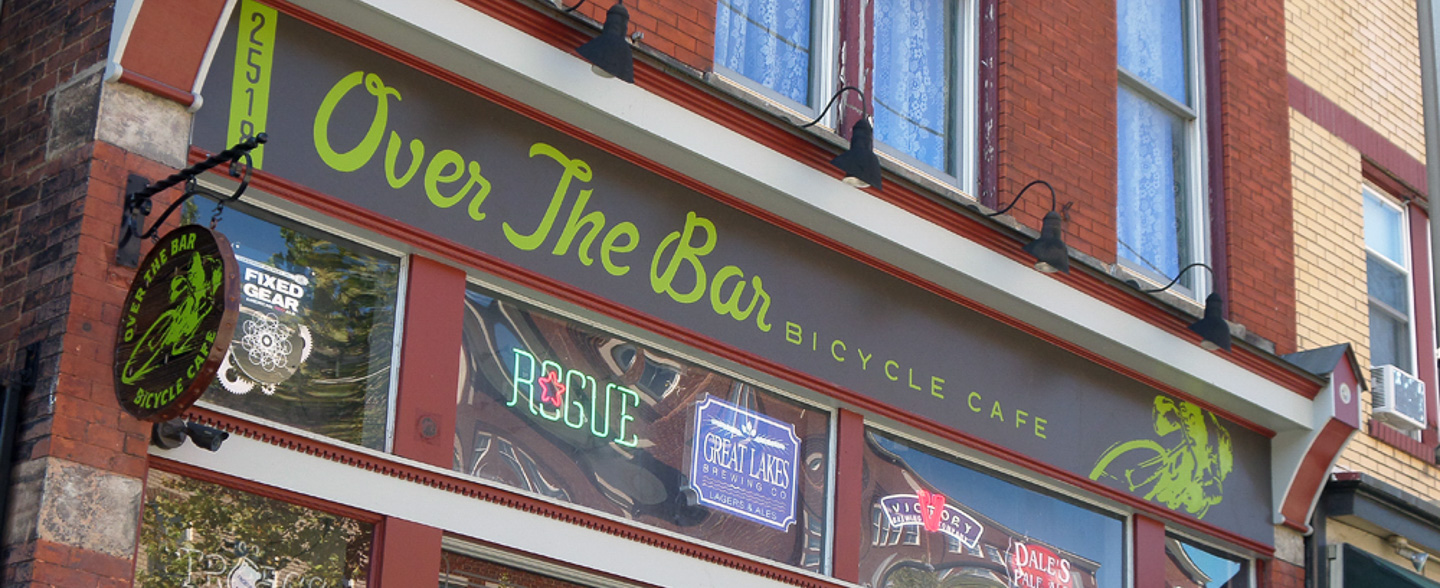 The Concept: Bikes. Burgers. Beers. Over the Bar (OTB) is a full-service bicycle-themed bar and restaurant catering to cyclists and outdoor enthusiasts. "We served great food, and nothing but craft beer ever flows from our tap," says owner Michael Kotyk.
The Bike Elements: Over the Bar isn't a bike shop, but they promote cycling to their patrons and to the communities in which they're located. Their menu items are named after cycling terms and cycling friends, and their cuisine is geared toward cyclists. (Pun intended).  OTB is at the hub of Pittsburgh's cycling community.  "Our core patrons are cyclists," says Michael. "Over the Bar is a great place to meet and join the Pittsburgh cycling scene."
OTB received a proclamation from the City of Pittsburgh for advocating for safer streets and promoting bicycling for people of all ages, both for recreation and as an alternative means of transportation. Both locations are established locally as Bike Friendly Employers and nationally as Silver Level Bike Friendly Businesses through the League of American Bicyclists.
The Cafe Elements: OTB serves burgers, sandwiches, wraps, salads, soups, etc. "Our entire menu is inspired by cycling," says Michael. "We focus on high protein foods and healthy, vegetarian options." They also use local products as much as possible to keep things fresh and healthy, and they even offer a secret paleo menu.
The Location: OTB's South Side location (2518 East Carson, Pittsburgh, PA) is situated at the heart of the Historic South Side District of the City of Pittsburgh—just a blog away from the Great Allegheny Passage Trail.
Their North Park cafe (10301 Pearce Mill Road, Allison Park, PA) is located in a Historic Boathouse in the heart of North Park, the Pittsburgh Region's largest County Park and home to 43 miles of singletrack, a mountain bike/BMX Skills Park, and a Freeride Trail for hardcore downhill riders. "North Park is a popular take-off spot for road cyclists that enjoy anywhere from 25 to 100 mile (or even more) rides into the rural areas north of the City of Pittsburgh," says Michael.
Both locations offer parking for around 30 bikes, and the South Side location is home to the city's first and largest bike corral.
The Owner: Owner Michael Kotyk is a mountain biker and also enjoys the rail trail and city rides with his wife and two small children. He also sits on the Board of Directors for Bike Pittsburgh, a local non-profit organization advocating for safer streets throughout the City of Pittsburgh and surrounding communities. Michael says that he was working at a park and recreation planning firm where he worked on bicycle and pedestrian projects, but with his experience in the restaurant business, he always wanted to open his own restaurant. Over the Bar offered him the perfect way to combine his cycling and restaurant backgrounds to benefit the community.
SEDONA, ARIZONA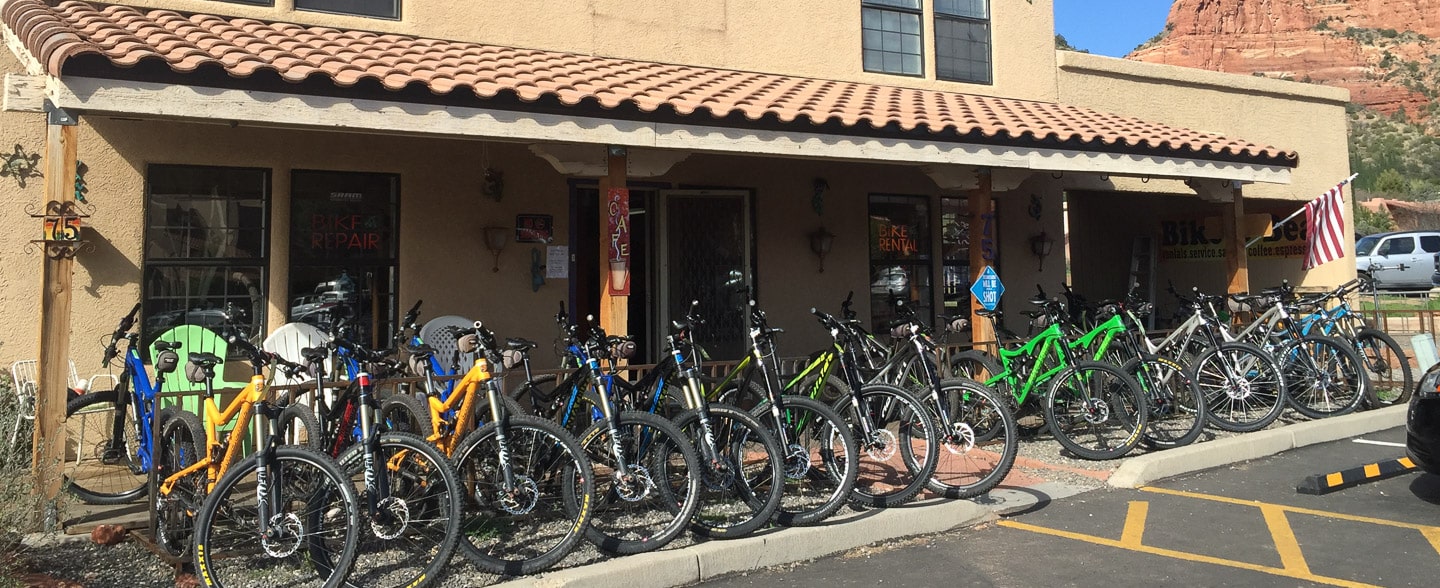 The Concept: With a location in a world-renowned mountain biking destination, a 50-bike rental fleet, and coffee and espresso imported directly from Italy, Sedona Bike & Bean has been combining the coffee and bike cultures since its inception 20 years ago. "We are the original bike shop / coffee shop," says owner James Monahan.  He says culture and professionalism are what set them apart. "It's not just a bike shop, we live the lifestyle."
The Bike Elements: Sedona Bike & Bean sells, rents, and services bikes, with a specialty in high volume rentals.
The Cafe Elements: Sedona Bike & Bean offers coffee drinks and home-baked goods. "We also have a ton of trail-type foods pre-packaged to grab and go with you on the trails," says Jim. "All of our baked goods and trail foods are made with the healthiest ingredients for perfect cycling fuel."
The Location: 75 Bell Rock Plaza, Sedona, AZ
Sedona Bike & Bean is located about 500 feet from their hotel, which has trailhead access, and they have unlimited bike parking. "There are over 270 miles of world-class singletrack mountain bike trails in our backyard of Sedona," says Jim.
The Owner:  Jim says there has always been a relationship between coffee and cycling. "Coffee before, beer after." Jim has been a cyclist for about 25 years. "Back then, bikers always met at a coffee shop for group  rides, so it seemed logical to combine the two," he says.
Musette Caffe
VANCOUVER, BRITISH COLUMBIA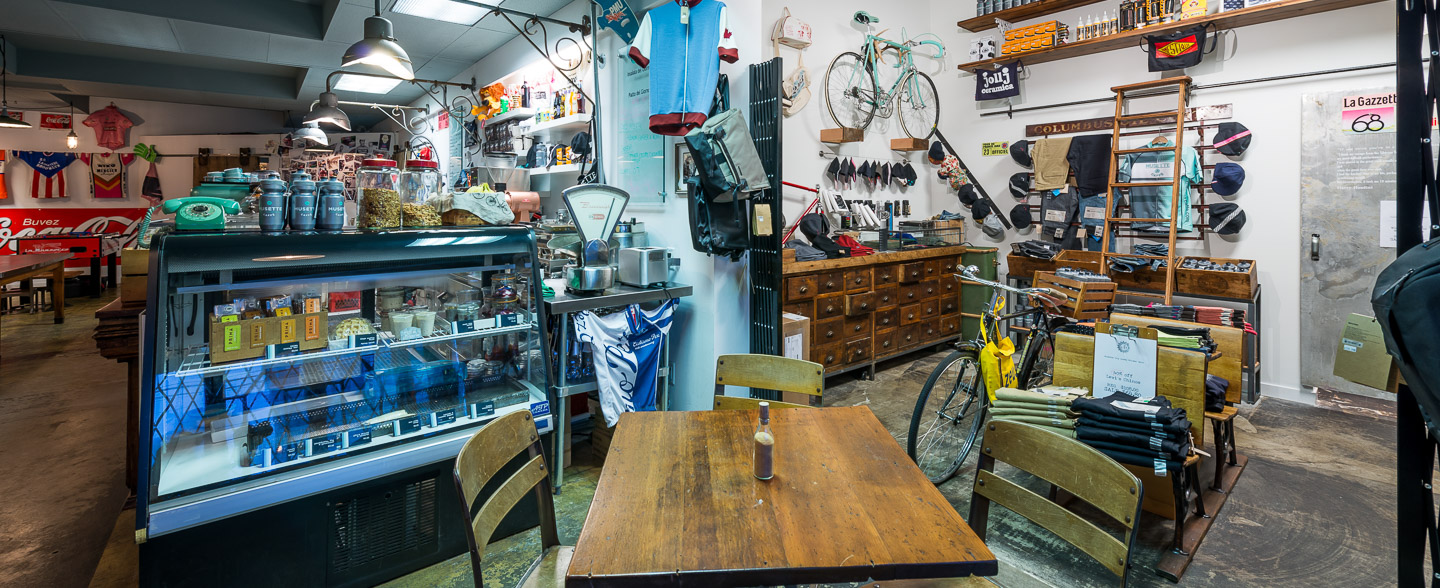 The Concept: "The concept of Musette was to provide a place where people can come and enjoy good vibes, whether you're a cyclist or not," says former owner Thomas Eleizegui. "We did our best to offer a good product and experience." Their space was filled with cycling memorabilia, including musette bags dating from the 1950s to today. "It allowed everyone to enjoy the feel of the cycling culture," says Thomas.
The Bike Elements: Musette's retail store was for customers who need a quick fix or an accessory. They sell Musette jerseys and caps and hope to expand the business to include local guided bike tours in their backyard of Vancouver. "We play all the races from around the world, and we like to talk shop," says Thomas.
The Cafe Elements: Musette sold 49th Parallel Coffee from a local roaster as well as pastries, sandwiches, and healthy bars. Thomas believes it's important to splurge once in a while as a reward for all the hard work you put in on the bike. "My philosophy is: eat what you want, just as long as you ride."
The Location: 1262 Burrard St, Vancouver, BC
Now closed, Musette was ideally situated for cyclists—away from cars and pedestrians. The shop offered indoor bike parking and locks if you need one. "It may not be the ideal location for a business, as we were kind of hidden," says Thomas, "but it just shows how tight the cycling community is."
The Owner: Thomas's background is in retail, and he is also a cyclist. "I try to get out as much as possible," says Thomas. "The shop was more of a hobby than a business, but it just grew."