The guides dispersed, biking far and wide across the world. Every now and again, the guides surreptitiously sneak a splash of potion into water bottles or drizzle it on salads at a picnic lunch. And whenever these drops hit the lips of DuViners, romance takes hold. No one knows where and no one knows when—until today. In honor of Valentine's Day, we share five love stories with DuVine at their heart.
---
Engagement in Champagne, France | David + Mimi | 2016
"David had been carrying around the ring all day, hoping for a picturesque place to propose. I have always loved lighthouses, and serendipitously there happened to be one situated in the middle of Verzenay's vineyards. We found the sign and David suggested biking off our path to find it. I agreed despite being tired, but got irritated when he rode ahead to 'scope out the area.' I thought we were biking this extra length off the path together—but then, I wasn't expecting him to propose! I started gaining on him, forcing him to jump off his bike, spin around, and get on one knee. He even still had his helmet on! Given our location, the champagne toasts to celebrate were plentiful!"
---
Marriage in Tuscany, Italy | Sarah + Kris | 2015
"When we signed up for our Tuscany trip with DuVine, we didn't expect that an adventure which started in lycra would end in a wedding dress. The day we discovered what would be our wedding venue, we set off on a ride through a cobblestoned town, stopped for an espresso, and began the climb to Montalcino. After a long, luxurious descent, we explored the vineyards and sampled delicious food and wine during lunch at Ciacci Piccolomini, the estate and winery of an avid cyclist. Our affection for the region was deepening, and by the time we arrived at Castello di Velona, a medieval 11th-century fortress that is now a five-star hotel, it was love at first sight. The castle's antiquity, hilltop setting, thermal pools, and sweeping 360-degree views of Tuscany were breathtaking. We knew right away it was the perfect choice for our intimate wedding in Italy. We can't wait to celebrate there with our family this August!"
---
Honeymoon in Verona, Italy | Jason + Pamela | 2016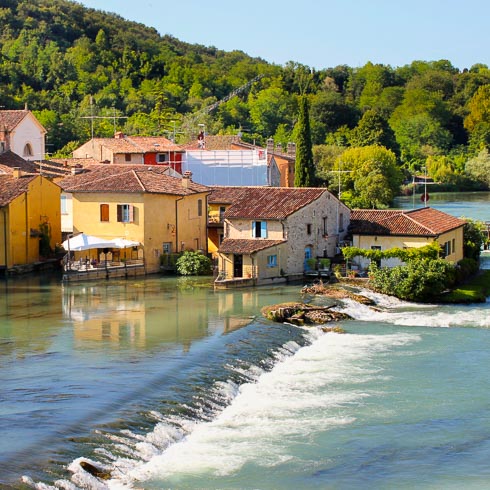 "We couldn't have asked for better weather, better views, or better guides. Biking through the Italian countryside was just as romantic as it sounds. Pam and I had some chances to ride side by side, as others moved ahead or slipped behind, and it reminded me of the times we spent biking together in Colorado, when we were first living together on our own. We had a great time meeting the rest of the group, learning about and sampling different foods and wines, and—like any good honeymoon—not having to feel too guilty about it (because we got to pedal some of it off the next day)!"
---
"We are completely in love with the newest addition to our family, Clara. Tom and I met as guides for DuVine, so you can bet that our daughter—born last month—had a bike trailer before a car seat. Guiding for DuVine changed me, opening my mind and heart in a way that prepared me for the love I feel for Clara. It's not too shabby working with your husband every day in the world's most beautiful locations, either. We hope to fill Clara's life with adventures and to show her the world. In fact, we just returned from our Babymoon in the Dolomites! At one month old, she's well on her way to becoming the curious, world-wise traveler we hope she will be."
---
Anniversary in Tuscany, Italy | Cathy + Steve | 2016
"Steve and I had a fantastic time on our DuVine bike tour. Our guides made our first wedding anniversary even more memorable when they arranged a private romantic dinner for us to celebrate. We share a love of staying active, and though I'd been to Tuscany many times before, the true beauty of the place emerged on a bike beside my husband. It was a magical ride that perfectly mirrored our first year of marriage—we can't wait to do it again, year after year, together."
---
Whether you're already feeling amorous or hoping to get caught in the crossfire of Cupid's arrow, these sweet stories prove that a DuVine bike tour is an unexpected place to find love at any stage in life.