Italy, 1925: in a hamlet on the outskirts of Florence, a peasant boy scrapes together enough lira to buy himself a bicycle. Unbeknownst to 11-year-old Gino Bartali, this choice would shape the course of his life. Along the way, he would help to rewrite cycling history and save the lives of strangers who would never know his name. It wasn't until after Bartali's death in 2000 that the full story of this complex unsung hero began to emerge.
The Peasant Boy
Bartali was born in Tuscany to a humble laborer's family in July 1914. His father was a day laborer, and the Bartali children worked the fields and embroidered lace alongside their mother to make ends meet. Together, they saved enough money to buy Gino a bike so he could travel to middle school in Florence. By age 13, Gino was working in a nearby bike shop, and by 17 he had won his first cycling race. It was the first of many victories for the young Tuscan peasant.
The Iron Man of Tuscany
Bartali perfected his penchant for cycling by zooming up and down the hills of his native Tuscany. In 1936, he won his first major race at the Giro d'Italia, but the victory was soon overshadowed by a horrible accident. During an amateur race in Turin, Gino's younger brother, Giulio, was struck by a car on a precarious, slippery descent in the rain. Gino was devastated by the loss of his brother and quit cycling altogether. A devout Catholic, he turned to prayer and assumed a larger role in his church community as he grieved. With few other career options, Bartali made the painful decision to return to cycling. He brought with him a new motivation: he would race in honor of his brother. Bartali went on to win the Giro d'Italia in 1937 and again in 1938.
Nicknamed the "Giant of the Mountains" for his thick, muscular build and effortless riding, Bartali's racing style was unusual: he was an excellent climber but rarely danced on the pedals, preferring to stay seated for climbs. He geared up in the saddle while others attacked and was considered a pioneer of derailleur gears. He would later win three consecutive mountain stages in the Tour de France, one of the most outstanding accomplishments in cycling history. It would be half a century before anyone would unseat Bartali's three consecutive stage wins.
Despite his talent and honorable intentions, Bartali wasn't always the exemplary competitor. He was known to be outspoken, boastful, and pessimistic, often insisting that "everything's wrong, we'll have to start all over again."
The Rival
Bartali's strong personality especially clashed with Italian cyclist Fausto Coppi. Coppi was many things that Bartali was not: Coppi was worldly and secular, while Bartali was conservative and religious. Coppi was the hero of the industrial north, whereas Bartali was venerated by the agrarian south. Bartali was a firm believer in red wine and hearty Tuscan dinners, whereas his slender rival was meticulous about diet and training. Thick-legged Bartali was known to call Coppi "as thin as a mutton bone."
At the time, Italian cyclists like Bartali and Coppi had a reputation of only riding well within Italy. When writer Tim Hilton called Bartali a "champion who rode within sight of his own people," the comment bruised Bartali's pride. Compelled by the Italian Cycling Federation to improve Italy's reputation and determined to prove Hilton wrong, Bartali won his first Tour de France in 1938.
The victory was exactly what Fascist leader Benito Mussolini had been hoping for. He believed that if an Italian rider won, it would show that Italians were superior. When Bartali mounted the podium, however, he refused to dedicate the win to Mussolini, as tradition dictated. This act of defiance was a grave insult to Mussolini and the first of many bold risks Bartali would take in years to come.
The Pious
Even though Bartali refused to honor Mussolini in his 1938 victory, he was photographed laying his victor's bouquet at the feet of the Madonna in a local church in Paris. Infuriated, Mussolini's press office sent a secret missive to Italian newspapers ordering them to avoid any discussion of Bartali's personal life—including his religion—in news about his cycling.
Bartali's devotion to the Catholic faith was a cornerstone of his life. As the Vatican's favorite sportsman, he was proud to teach Pope John XXIII how to ride a bike. He prayed before meals and resented when his teammates swore, leading him to be nicknamed "Gino the Pious." He would set up shrines in hotel bedrooms during important races. Local priests would lead choirs of children to sing canticles for Bartali as he cycled past their villages.
Bartali's faith helped him heal from losing his brother and guided him to do what he felt was right in the face of adversity: "My faith in God, my heartfelt love for religion, have always given me the strength to overcome all the things that were first thought impossible." Upon his return from the TDF, an even bigger challenge would test Bartali's faith.
The Undercover Hero
By 1936, Italy was facing dramatic political upheaval. Jews encountered increasing levels of discrimination as the Fascist government approved anti-Jewish measures based on Germany's Nuremberg laws. In 1940, Italy declared war on France and Britain. In October of that year, Bartali was called to active duty and stationed as an army messenger. Frustrated with Mussolini's government and disillusioned by military life, Bartali's escape was reading the Bible and studying the lives of saints.
In 1943, Mussolini's regime was overthrown. The new government signed an armistice with the Allies, but German forces invaded the north, placing Italian Jews in greater danger than ever.
Bartali had since returned to cycling and his career was flourishing. In September of 1943, Archbishop Elia Dalla Costa requested a secret meeting with Bartali and asked him to join an underground group called the Assisi Network. Dalla Costa explained that Jewish fugitives needed falsified identity cards to escape persecution, but movement around Italy was severely restricted under the Nazi regime. Bartali's long, arduous training rides provided the perfect cover.
Baratli agreed to help. He would leave Florence each morning to "train" and ride across the country to convents where Jews were hiding. Stashed inside his handlebars and bicycle frame were counterfeit identity cards and other documents from a secret printing press in Florence. Whenever he was stopped and searched, Bartali asked Nazi officials not to touch his bike as the different parts were carefully calibrated to suit his racing style.
Bartali rode thousands of miles on his courier missions between cities as far apart as Assisi, Lucca, Genoa, and Rome. During his travels, he sometimes overheard conversations about raids on safehouses and relayed this information back to headquarters. On one occasion, Bartali used his climbing prowess to help refugees reach the Swiss border. The refugees hid in a secret compartment of a wagon attached to Bartali's bike. The Tuscan "Giant of the Mountains" pulled the refugees up into the Swiss Alps, telling patrols it was part of his training. Bartali also helped people back home in Florence, hiding his Jewish friend Giacomo Goldenberg and Goldenberg's family in his cellar.
Bartali's actions put him in grave danger. He risked his own life and the life of his family: Germans were executing everyone who was found hiding Jews. As the war progressed and cycling races were canceled, Bartali's cover became less and less credible and he went into hiding in the Umbrian town of Citta Di Castello. In July of 1944, he was arrested and interrogated at the "Sorrow House," Villa Triste, in Florence. During his interrogation, Bartali simply answered, "I do what I feel [in my heart]". One of the interrogators happened to be Bartali's one-time army commander, who convinced the other officers that Bartali was innocent.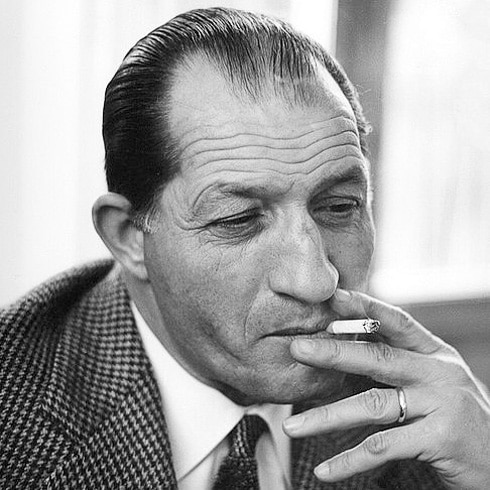 Even years after World War II, Bartali kept silent. He proudly shared his accomplishments as a cyclist, but he took no credit for his heroic role in sparing countless lives during the war. Bartali eventually shared some of his stories with his son, Andrea, but made him promise to not tell anyone. Andrea later recounted, "When I asked my father why I couldn't tell anyone, he said, 'You must do good, but never talk about it. One does these things and then that's that. If you talk about it you're taking advantage of others misfortunes for your own gain.'"
Few of the hundreds of people Bartali helped would ever know his name or even the role he played in saving their lives. He refused to see his actions as heroic, explaining that "real heroes are… those who have suffered in their soul, in their heart, in their spirit, in their mind, for their loved ones. Those are the real heroes. I'm just a cyclist."