When Nena Talcott met Bonnie Storm, she wanted to be Bonnie Storm.
"She was everything I wasn't," says Talcott. "I was a mother at home, raising kids, driving the carpool, and working, pulling up the slack around the vineyards, the winery, and all that sort of stuff, and Bonnie kind of had this free-flowing life…so I really gravitated to her, she had a great spirit of adventure and she had great style."
That experience kicked off a decades-long friendship that, over the last seven years, metamorphosed into a professional partnership. Their iconic, pewter-stamped olive oil bottles have been showing up in important places around Napa and the country, including Fortune and The New York Times.
Northern California, and the Napa Valley especially, is a premium olive-growing region, thanks to the Mediterranean climate that makes it so desirable for grape-growers as well. Operating out of Napa's back door, in nearby Chiles Valley, Storm and Talcott produce Grove 45 (named for the year they were both born), some of the most sought-after olive oil in the area.
Both women had been producing olive oil for years, so it was no big leap to get together. Storm started planting olive trees solely for decoration, before learning about the Northern California Olive Oil Council. She quickly became obsessed, visiting Italy and going on production tours. She imported 1,000 trees, and became the council's first secretary.
Talcott wears her hair gray and spiky, and can often be found in a collared shirt. She owned vineyards and olive trees for many years, but sold them all and quit the business in 2005. Storm, who is the shorter of the pair, with bright red hair, was thinking of stopping around this time as well, before Talcott suggested they go in together. It helped that Storm owned the perfect property, with trees, up in Chiles Valley. Chiles Valley is a bit like Napa before all the hype. You won't see signs advertising tastings, and there are no restaurants, let alone fancy restaurants. "We like to say it's a time warp," says Storm. "People love to come out to the ranch because it's so different than all of the manicured, beautiful wineries and facilities in the valley floor." In addition to the trees, the farm is home to two dogs, a cat, three horses, a small production facility housed in an old barn, and the ranch house where Storm lives. Legend has it that the house has seen some strange deaths and suicides and served as a house for the Symbionese Liberation Army and Patty Hearst.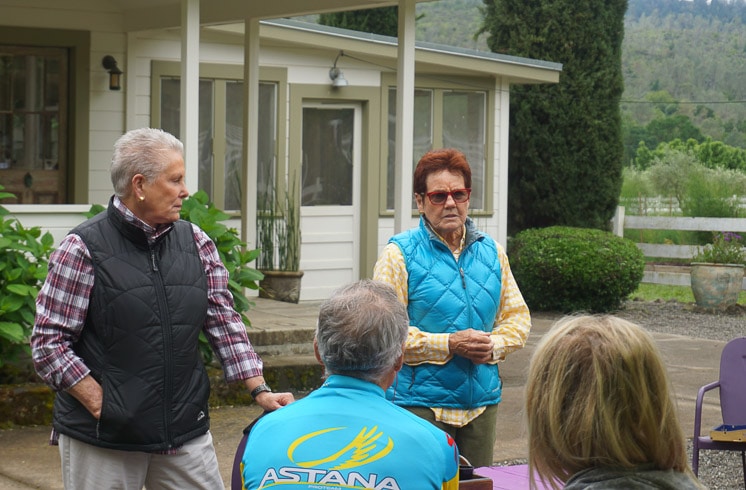 It's a quiet operation, even if the same can't be said for Storm and Talcott. While Storm runs most of the farming operations, and Talcott handles the business side, neither is much for marketing. They'd rather sit down with a glass of wine and chat than promote the brand or submit the oil to competitions. Besides, the aluminum bottles they use market themselves, standing out on the shelves, and winning occasional awards.
When harvest comes (this year probably around late October), for an intense four to five days they pick the fruit in the morning and immediately bring it to a mill in nearby Petaluma, to prevent fermentation. All the varieties from across the farm are blended, and mixed in a big steel tank. The oil is decanted into 55-gallon drums and brought back to the farm to settle naturally before they haul it to Sonoma for bottling. In addition to being iconic, the aluminum bottles keep the oil from degrading due to UV light. Onto these they apply pewter labels by hand, and ship them from Talcott's house.
The result is a deep green, peppery oil that delivers a shock to the back of the throat. "A medium robust Italian field blend, predominantly Tuscan varieties," Talcott describes it.
"It's got a real kick to it, a real temporary pungency," adds Storm. "We call our oil about a two-and-a-half cough oil. My personal choice would be to have a four-cough oil, but the world is not ready for that."
They sell out some 300 cases every year, and have no plans to produce more. "Success is if we're having fun, and we're having fun, so it's successful," says Talcott. Keeping the operation small means they have a hand in every step of production. And, it leaves them a bit of time for other fun stuff in life—like cycling.
Storm, who had been riding competitively, got Talcott interested around 20 years ago when they took a cycling trip to France with a friend. Talcott has been averaging more than one per year ever since. "I just thought this was the most wonderful way to see the countryside," she says. Their list of destinations is long—Cuba, Russia, Tunisia, Croatia, Vietnam, and more—but not as long as the places they still want to go. For example, Norway and Sweden, Belgium and Holland, or Japan, where they have been working with an importer in Kyoto to send olive oil.
But last year, an accident nearly broke Talcott's streak. She went down near home, and fractured her pelvis. She had her hip replaced. She was riding again in time to tour in the Dolomites this summer—where further crashes meant a broken elbow and an injured shoulder. She's back to spinning already, and will be back on the road soon. "I'm still on my bike though, just a whole lot slower," she says.
Storm and Talcott are also taking time to give back. Each year they pick a charity to donate oil to, either for auction or tastings and events. This year they got creative. Food of Love is a collaboration between the Napa Valley Youth Advocacy Center and the St. Helena Hospital, where high school kids volunteer to cook for cancer patients. Originally, the program used jugs of grocery store olive oil, but Grove 45 is donating all the oil for the year—usually a gallon every two weeks. "We're providing all the olive oil, and they go through a lot of it, let me tell you," says Talcott, who mentors and helps cook. The oil, in this case, could provide a welcome kick in more ways than one.