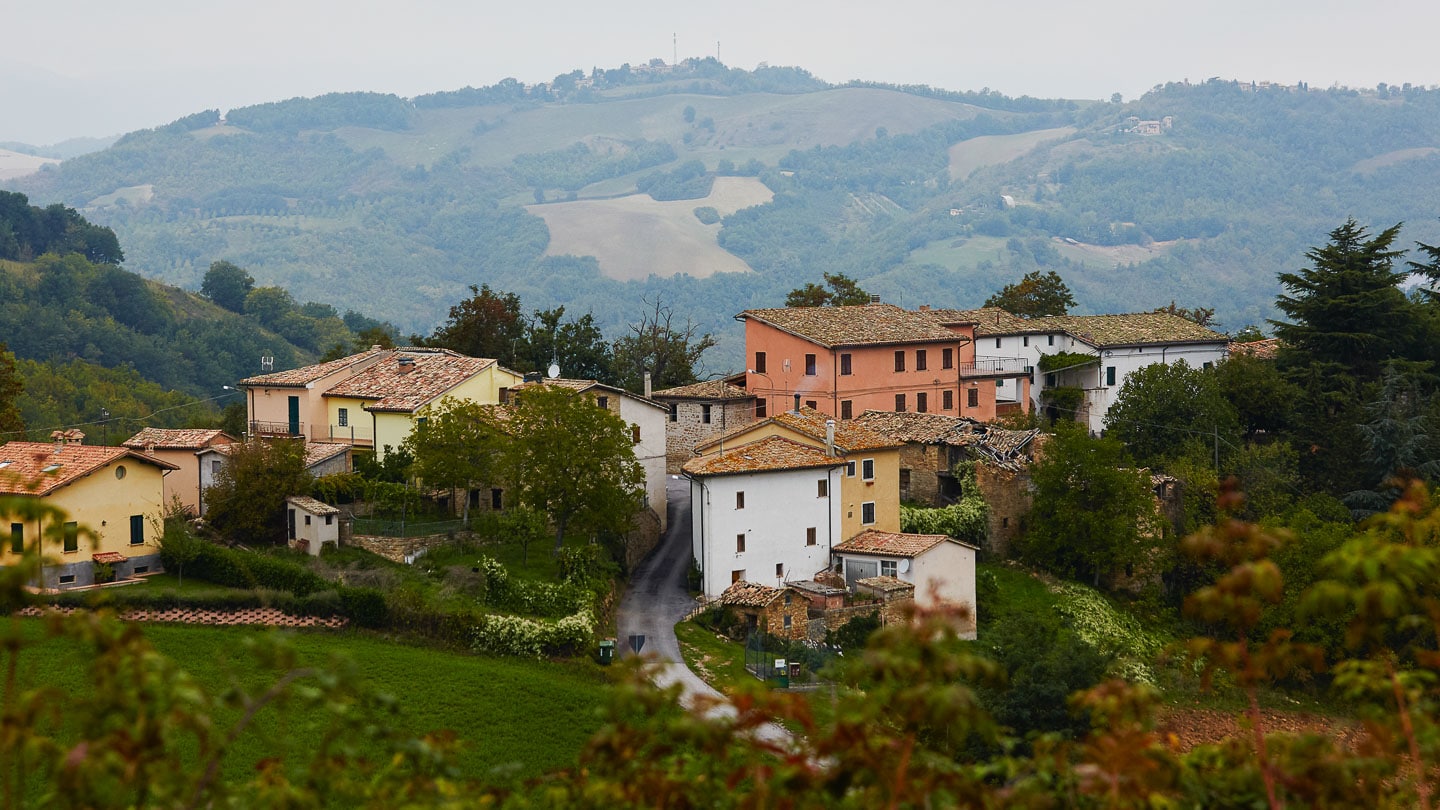 Welcome to Le Marche! Your guides will meet you at the train station in San Benedetto del Tronto, on Italy's Adriatic coast. After a coffee, we'll hop on our bikes and start climbing out of town onto a panoramic ridgeline that quickly leaves the beach-town vibes of San Benedetto behind. Riding through ancient hilltop towns with striking views over vineyards, farms, and olive groves, you'll wonder how this region has remained a secret for so long. Its isolation has helped preserve local produce like the heirloom pink apples of Montedinove, a town we will ride through. Tonight we celebrate the best of Le Marche's regional cuisine at dinner with a local winemaker.

Meals: Lunch / Dinner
Destinations: San Benedetto del Tronto, Montedinove, Montelparo
Accomplished: 30 miles / 48 km, elevation gain: 1,221 meters
Accommodations: Hotel Leone

Yesterday's climb departed the coast and today will continue in kind; we'll leave the cultivated landscapes of the coastal plain and spend the next two days in the wild uplands of the Appenine Mountains. This area has remained unknown to Italians and tourists alike due to its inaccessibility, but on a bike all you need is a strong will and low gear. The Fiastra gorge acts as the gateway to this region and we'll wind our way up the canyon for views of the wild Sibillini Mountains. According to legend, the range is named for the legendary seer, or 'sibyl,' who lives in a cave here. This evening, we've earned a soak in the soothing pools of our spa hotel before a dinner featuring local products like lentils, cicerchia (a local legume), mountain lamb, and pecorino cheeses.

Meals: Breakfast / Lunch / Dinner
Destinations: Falerone, Fiastra, Camerino
Accomplished: 57 miles / 91 km, elevation gain: 1,573 meters
Accommodations: Borgo Lanciano

Get ready for the wildest ride of the trip. Our route follows the narrow Sefro Valley up a switchback climb to the mountain pastures of Montelago and over the Passo Sallegri, recently featured in the Tirreno-Adriatico bike race. Descend to the plains of Colfiorito, famed for its red potatoes, and cross into Umbria as we leave the Marche behind. The final push of the day brings us to the highest point of our trip: a view we call "Umbria's balcony," where the entire Val Umbra sprawls before you. Tonight we'll stay at a restored farmhouse that still produces olive oil, grains, and legumes. Needless to say, dinner will feature these farm-fresh ingredients and some local truffles found in the surrounding forests.

Meals: Breakfast / Lunch / Dinner
Destinations: Passo Sallegri, Colfiorito, Poreta
Accomplished: 58 miles / 93 km, elevation gain: 2,101 meters
Accommodations: Borgo Della Marmotta or Borgo Campello

Pedal today across Umbria, known as the "Green Heart of Italy." This area was the home of St. Francis and boasts an incredible wealth of both medieval hilltowns and Roman ruins. It is also the source of some of Italy's best olive oils, wines, prosciuttos, and homemade pastas. We'll delve into Umbrian food culture during a truffle hunt with a local tartufaio and his dog before setting off on our ride. Once we've left the mountains in our dust, our route takes us along panoramic open ridgelines through olive groves, wheat fields, and oak forests. Cross the upper reaches of the Tiber River before arriving at our beautiful country villa near the south shores of Lake Trasimene.

Meals: Breakfast / Lunch / Dinner
Destinations: Collazzone, Marsciano, Pietrafitta
Accomplished: 53 miles / 86 km, elevation gain: 1,237 meters
Accommodations: Villa Monte Solare

Tuscany and the Val di Chiana

Today we enter Tuscany, the third and final region of our sea-to-sea sojourn. Climb to the hilltown of Panicale before descending into the Val di Chiana, home of the famed Chianina cattle. These huge white cows were the original Tuscan tractors, prized for their ability to pull plows through the thick local soil. Since WWII they have been reinvented as beef cows, most famously as the star ingredient of Bistecca Alla Fiorentina. This area also produces wheat, apples, olives, peaches, and, as you'll see on our climb to the hilltown of Montepulciano, some of Italy's standout red wines. Sample some of this local Vino Nobile with our favorite local producer before heading to dinner.

Meals: Breakfast / Lunch / Dinner
Destinations: Panicale, Montepulciano, Montefollonico
Accomplished: 44 miles / 71 km, elevation gain: 1,056 meters
Accommodations: La Chiusa

Siena and the Crete Senesi

Ride into the classic Tuscan landscape of the Crete Senesi, characterized by long vistas, cypress-lined drives, and orderly brick and limestone hilltowns. On our approach to Siena, the landscape changes once again as the green hills of Chianti emerge. Vineyards and deep forests obscure ancient castles and the wild boar who roam the region, known as cinghiale. No trip to Chianti would be complete without trying cinghiale, especially washed down with world-class Chianti wine. After lunch, it's a short ride to our hotel in Siena where the afternoon is yours to explore this quintessentially gothic city, have an aperitivo in the Piazza del Campo, and research the local restaurant scene for dinner on your own.

Meals: Breakfast / Lunch
Destinations: Trequanda, Asciano, Siena
Accomplished: 50 miles / 80 km, elevation gain: 1,160 meters
Accommodations: Borgo Grondaie

Leaving Siena, we ride past the fairytale fortress of Monteriggioni and onto the ancient Roman road, the Via Cassia—its low highway number (SS 2) a sign of its longevity. Pedal past the impressively perched medieval village of Colle di Val d'Elsa en route to Volterra, an imposing Etruscan hilltown that marks the beginning of our descent to the coastal plain. Ride over one last hill and through Bibbona to reach our final hotel of the tour. In the last 40 years, this region has risen from obscurity to become famous in the wine world for its production of so-called Super Tuscans like Sassicaia and Ornellaia. We will pair some local Super Tuscans with our final dinner as we celebrate a memorable week of biking, eating, and drinking our way across Italy.

Meals: Breakfast / Lunch / Dinner
Destinations: Monteriggioni, Colle di Val d'Elsa, Volterra, Bibbona
Accomplished: 58 miles / 93 km, elevation gain: 1,434 meters
Accommodations: Relais Sant'Elena

Take a final spin through Bolgheri and down to the beach to dip your front wheel in the Ligurian Sea, officially completing the journey from coast to coast. Later in the morning we will transfer you into the Pisa train station as you head to your next destination.

Meals: Breakfast
Destinations: Bolgheri, Pisa
Accomplished: 17 miles / 28 km, elevation gain: 210 meters
DuVine itineraries may be subject to slight route changes, hotel substitutions, and other modifications.
Arrival Details
Airport City: Rome, Florence, Bologna, or Milan, Italy
Pick-Up Location: San Benedetto del Tronto
Pick-Up Time: 9:00 am
Departure Details
Airport City: Rome, Florence, Bologna, or Milan, Italy
Drop-Off Location: Pisa Train Station
Drop-Off Time: 1:00 pm
Any scheduled tour can be made private. Your group, your dates.     Go Private
Accommodations
Thoughtfully selected accommodations that reveal the true character of the region in ideal riding locations
Luggage transfers
Meals
Daily breakfasts, all lunches, and 6 cyclist-friendly dinners at our favorite local restaurants and renowned culinary establishments
Nutritious energy snacks, hydration, and shakes to support endurance and recovery
Local wines and beer with every meal
Activities
Wine tastings and activities as outlined in the tour itinerary
Entrance fees to historic sites, museums, parks, and all other exclusive events
Gratuities for baggage, porters, and hotel service
Gear
Top-of-the-line Cannondale carbon fiber road bike
Complimentary DuVine gear, including a custom cycling jersey, DuVine t-shirt, water bottle, and drawstring bag
GPS with pre-programmed route maps
Support
Expert bilingual guide with extensive cycling experience and local knowledge
Support vehicle that follows the day's route, distributes refreshments, and offers lifts
Pick-up and drop-off before and after your tour from predetermined meeting points
Laundry service provided mid-week
Daily bike maintenance to ensure optimal performance
NOT INCLUDED:
Airfare
Dinner on one free night
HAVE MORE QUESTIONS?
See our FAQs page for answers to common questions.
See FAQs