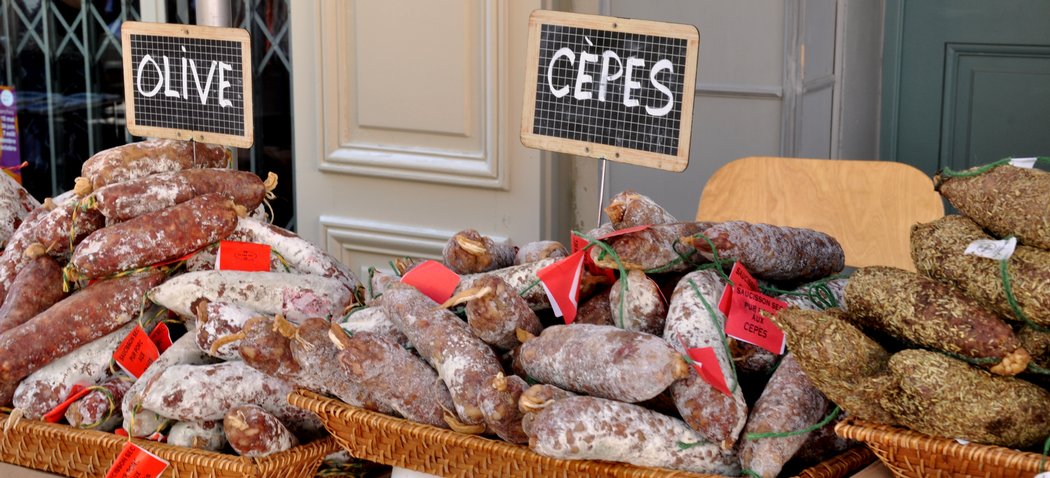 At DuVine, it is our mission to search the world for some of the most satisfying cuisines for our bicycle tours. For meat-lovers, we've combed Europe and Latin America to uncover the top meat regions of the world. For the waist-line worrying carnivores, remember, the indulgence is guilt-free because all those miles of cycling will help you burn off unwanted calories.
Italy
Most commonly found in Sardinia, Italy, Su Porcheddu is a traditional suckling pig dish.  Traditionally the suckling pigs are roasted whole, either buried in the ground or on a spit over an open flame but nowadays, cooking them on a gas grill is also common. However chefs decide to prepare this traditional feast, the flavors and the authenticity of the meal will no doubt leave you wanting more.
Morocco
Morocco is famous for its flavorful Tagine. Named after the pot that it is created in, the beef or lamb with prunes is a classic Moroccan dish that combines the sweet prunes and the meat with the fragrant spices of ginger, saffron, cinnamon and pepper. It's often served with Moroccan bread for scooping up the meat and the sauce. If you want a different take on a meat dish, this is a must. If out-of-the-ordinary is what you're after, food is not the only thing offered in this exotic paradise. The rich culture and vibrant lifestyle will leave you hungry for more. Why not have a taste of paradise with our Morocco bike tour.
Uruguay
Meat has been a traditional staple food in Uruguay for a long time. Their famous and traditional asados (variety of mixed frills featuring different types of cuts slow-roasted over a fire) are typically social events among friends. However, due to the growing popularity of the dish, hundreds of asado restaurants have sprung up to cater to tourists and others passing through. For the carnivores out there, beef and a variety of local sausages are often popular choices, served minimally with a sprinkle of rock salt, a simple salad and some local wine. The feast pairs so well with wine that we just made sure to include wine tastings on our Uruguay Coasts Vineyard bike tour.
Spain
DuVine's Rioja and Ribera del Duero bike tour will take you to one of the most famous meat regions of the world. If you want some truly satisfying protein, pretty much all of central Spain should be a target destination. The region is famous for its huge, tasty roasts. Legs of lambs and massive rib-eyes are common dishes but the region's star dish is the whole-roasted suckling pig, or cochinillo, found in the old city of Segovia. Typically seasoned with a few sprigs of thyme and a splash or white wine, this is what a true meat dish should be.
France
France is not often thought of for its meat dishes, but if you've overlooked this country, you're really missing out. One popular dish is Steak Frites. Woo even the choosiest carnivore with a more-than-half-pound Normandy rib steak, one of the tastiest pieces of beef you'll even try. Paired with bone marrow and crisp house fries of nearly shoestring thinness, this dish will satiate the heartiest of appetites.
Brazil
In the country that invented the Brazilian Barbeque, it is no wonder Brazil is on the list. For the most authentic experience try Churrasco, a popular form of eating that involves an incredible variety of top grade meats skewered and cooked to slow perfection over an open flame. Head to the lakeside city of Proto Alegre, the region where all this skewering started.  If you'd like to try out the famed churrasco and see the typical sights of Brazil, why not try our Rio + Paraty Bike Tour? You'll bike, sail, and feast your way through an epic vacation.
Czech Republic
A stand out feature of the Czech Republic is its staple food, a smoky sausage called Klobasa. Eaten with mustard and Sauerkraut, this meal alone should entice any meat lover.  Roaming carnivores should also sink their teeth into tender pork dishes, stuffed cutlets and roasted game like boar and venison. If you visit the Czech Republic for the food, why not stay for the bike, drink and sleep as well? Try it out with our Czech Republic and Austria Bike Tour.
It doesn't matter where you decide to go; If you enjoy meat, we've got just the tour for you! Call 888-396-5383 or email us today to book your once-in-a-lifetime bicycle tour. Leave everything to us, just bike, eat, drink and sleep your way to an unforgettable trip.