As we wrapped up our six days in Piedmont, I had the chance to reflect on seeing all the facets of DuVine's philosophy culminate in a tour that worked on all cylinders. Descending along smooth roads, flanked by flourishing vineyards, with the red clay roofs of the village homes in the distance, I was reminded of the DuVine's mission to show every traveler the world by bike and thrilled to realize its purpose.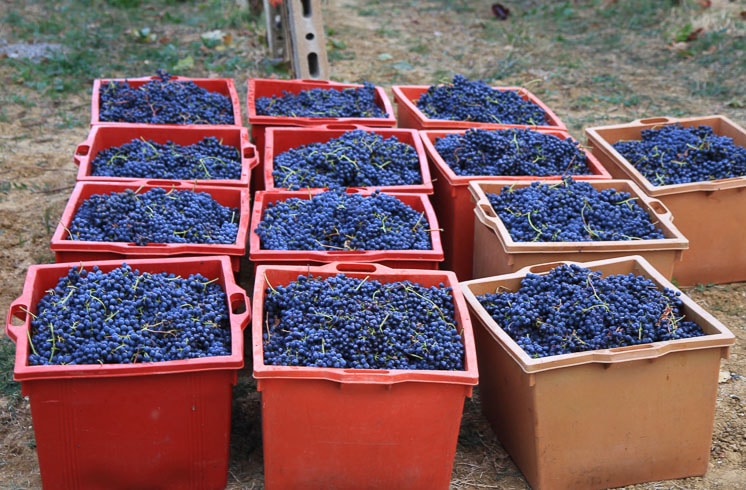 I joined a group of three friends who make a point to travel together every year. Despite my being the fourth wheel, they were welcoming and shared many of their personal stories. One narrative I heard over and over again was how this trip was heaven to them. From the hotels to meals and overall appeal of their surroundings, I was proud to hear them exclaim: "This is the perfect vacation" or "This is the best tour ever!" Before they left, they were already planning a trip to Sicily, excited by the promise of cannoli, red wine, and riding into Ragusa.
Our guides Guido and Edd make a fantastic team. Guido is all of the Piedmontese legend he's made out to be, with over ten years of guiding experience and a lifetime of riding the Piedmont hills. He is very kind and funny, but it's his experience that gives guests an invaluable sense of comfort and safety whether he's driving the van or leading on the bike. His knowledge of wine is beyond extensive. He made us privy to a great selection of Barolo, Barbaresco, and Nebbiolo while carefully explaining each vintage and grape. He's also able to improvise routes to suit any desire: one day, a guest asked if she could see goats. Less than 24 hours later, we were on our way to a goat farm for an impromptu cheese tasting. It was talked about all week.
Edd provides tremendous character to the guide pairing. His humor and good nature help relax guests and encourage laughter and easy conversation. All the while he maintains an innate knack for hospitality, ensuring every need is seen to while sharing his broad knowledge about history and wine. My riding companions requested Guido and Eddy for their next trip, making it obvious how big of an impression these two left.
Next: the food and wine. This is the birthplace of Slow Food, so there's no shortage of the natural and homegrown. Amazing cheeses and prosciutto made from local producers. Handmade pasta with decadent sauce. Vegetables picked from the garden and straight to your plate. Focaccia with coarse salt. Suffice it to say nobody went hungry, whether we were in Gianni and Minna's cozy restaurant nestled in the wooded hillside or the ancient cave-like cellars of Il Ristorante Enoteca di Canelli.
The hotels were a beautiful progression of comfort, too. First was Guido's own agriturismo, Cascina Marcantonio, with a lovely, inviting charm that cannot be measured. It's hidden among four hectares (nearly 10 acres) of vineyards and has gorgeous views of Acqui Terme in the valley below, plus excellent showers and comfortable beds to boot. Guido's parents, a quintessential Italian couple, are outstanding cooks who open their home and leave you with an unforgettable taste of authentic Piedmont.
The four-kilometer climb to the hilltop where Relais San Maurizio, a renovated monastery, is perched was well worth it. It's a true five-star property: Jaguars and Porsches pass on the ascent, but little do they know their ride is nothing compared to the saddle of a Cannondale. From every room and direction, there are amazing views of green hills, vineyards, and valleys. The beds are big and fluffy white. Service is top tier.
The big, white, fluffy beds were a continuing theme at Villa Beccaris. There's also a great glass terrace for hanging out après-velo, and staying in Monforte d'Alba put us right in the heart of an ancient town filled with modern art installations (though it still feels like Italy with its cobbled roads and tractors towing grapes).
I would be remiss not to mention the quality of the cycling. Roads are in remarkable condition and cars are mindful of cyclists. I earned every bite of pasta while biking up hills and gradients unlike any at home in Boston, then savored the downhills surrounded by gorgeous valleys and hilltop villages. Most of all, I loved coasting through tiny little towns. You don't stay for long, but you might glimpse a group of kids passing a soccer ball on a side street or other charming scenes of daily life before dropping gears and heading back to the quiet country roads.
Covering this amount of ground while being exposed to the sights and smells of the environment are something that you could not experience any other way. When we reached the top of a vineyard and the smell of burning wood warmed the air, Guido said "It smells like winter." Speeding downhill, the wind blew cold against our cheeks and the occasional loose gravel crunched satisfyingly beneath our tires in one of those rare moments where all elements of life combine to make you feel truly alive. On some rides, things went so well—and not just the carefully orchestrated photo opportunities and van support—that I felt I was suspended in a special place and time. I chalk it up to a feeling of insider access and intimate connection to the region that almost defy description.
If I had to sum my time in Piedmont up with a single takeaway, it would be a sense of true DuVine magic. It actually exists. I have always believed in our experiences—I have coordinated and even guided tours for more than two and a half years. But what goes on in Piedmont was a refreshing reminder of what I'm working towards: an experience beyond compare. A culturally immersive, comfortable, and carefree vacation. I didn't feel like an impostor or an overwhelmed tourist wandering the streets of Rome and Florence with a guide map. I am not cramped in a bus with 20 people going on a pedestrian sightseeing tour. And I'm certainly not better off alone, since a group and guides complete a true experience geared toward being consistently surprised and delighted.