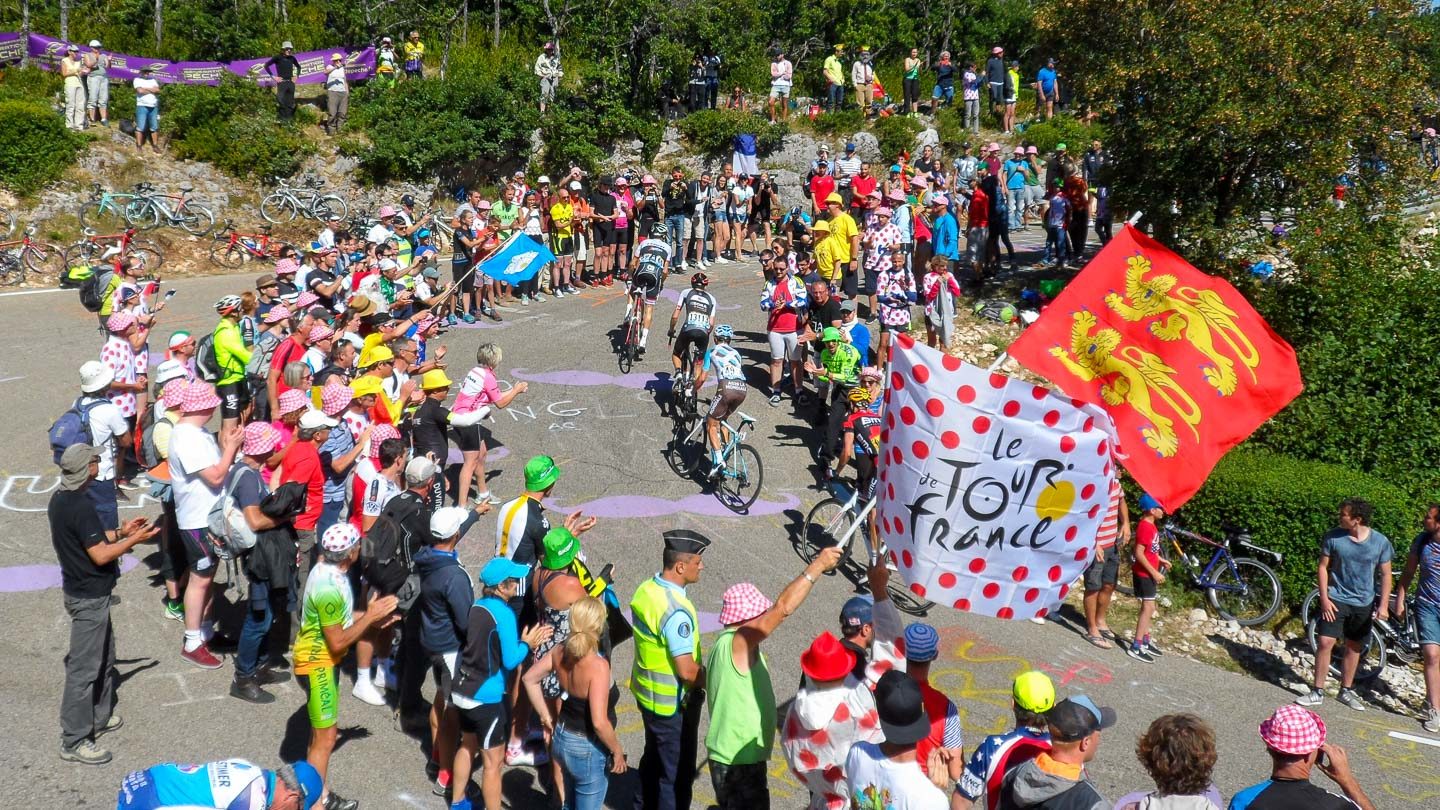 Welcome to France! Your guides will meet you at your hotel or the airport in Tolouse for a short transfer to Saint-Lary-Soulan, our home for the next two nights. Settle in at Hotel Mir before a bike fitting and safety review. For our first ride of the week, we head into the Pyrenees and climb the Col Hourquette d'Ancizan, a hidden gem of pavement that ascends into a mountain meadow. Loop back via the western front of the Col d'Aspin and through the mountain town of Arreau. During this evening's chalet dinner, raise glass to the TDF and the epic cols just waiting to be conquered. Tomorrow, the TDF arrives at our doorstep!

Meals: Lunch / Dinner
Destinations: Col Hourquette d'Ancizan, Col d'Aspin, Arreau
Accomplished: 38 miles / 61 km, elevation gain: 5,485 feet / 1,672 meters
Accommodation: Hotel Mir

There's a festive feeling in the air between Bastille Day and the much-anticipated arrival of the TDF in the Pyrenees. Today we'll ride the last 23 miles of Stage 17 ahead of the peloton, previewing the race's first major mountain stage. Tackle the Col de Lançon first, then rise high above the valley as we climb the Col d'Azet. We'll finish on the Col de Portet, the highest pass in the French Pyrenees: a solid 17 kilometers of climbing at an average grade of 8.3%. This is where the Tour's GC contenders will battle to gain seconds. It's a crucial moment of the 2021 TDF, and we'll be watching it all with VIP access. The pros may be duking it out, but we'll be toasting with cold beers, catching replays on the big screen, and cheering as the day's victors emerges. The VIP village is a mere 10 kilometers from our hotel, so breeze back down the mountain on our bikes before reliving the day's excitement over dinner.

Meals: Breakfast / Lunch / Dinner
Destinations: Col de Lançon, Col d'Azet, Col de Portet
Accomplished: 39 miles / 62 km, elevation gain: 8,884 feet / 2,708 meters
Accommodation: Hotel Mir

Battle on the Col du Tourmalet

Fuel up at breakfast, because today we conquer a truly iconic climb. Cycle to the base of the Col d'Aspin and begin our ascent even higher into the Pyrenees until we reach the Col du Tourmalet. At 2,150 meters, the Tourmalet needs no introduction: both feared and loved by cyclists, it's the most frequented climb in TDF history. We'll head up the west side, where nearly 19 kilometers average a 7.4% grade. There's no shame in taking a breather at the top, since the team captains are on our heels as they prepare for another epic battle to conquer the mountain on this very same climb. Tourmalet is teeming with TDF ambiance: fans in funny costumes, shirtless spectators, and messages scrawled on the pavement. After all, it's not just a celebration of the TDF, but of cycling itself! When the race passes, we'll ride down the west side of the col and catch a bike path that follows the Ousse river right to our hotel in Lourdes. Treat yourself to a well-earned massage, a power nap, or a stroll around town. Tonight, you're free to find a restaurant in Lourdes that appeals to you (or our guides are glad to make a recommendation).

Meals: Breakfast / Lunch
Destinations: Le Sarrat de Bon, Col du Tourmalet, Lourdes
Accomplished: 62 miles / 101 km, elevation gain: 7,224 feet / 2,209 meters
Accommodation: Grand Hôtel Gallia Chapelle & Spa

For our last day in the Pyrenees, we'll begin with a little amuse-bouche, so to speak. The Col du Soulor is a great way to work up our appetites for today's main course—the Col d'Aubisque. The Aubisque is well known in TDF lore: in 1910, its inclusion in the race prompted French pro Octav Lapize to label the race organizers as "assassins." Aubisque, the killer, has been featured in the Tour de France some 70 times since. We'll wrap up our ride in the the town of Laruns and have lunch in the main square. Reanimate your legs with a hot shower, then freshen up before our transfer to Saint-Émilion. This Bordeaux town is of course famous for its wine, but we'll watch as history is made here during the last Individual Time Trial before Paris. Tonight, we're treated to a fine dinner and a taste of the region's coveted wine. Rest up for a big day tomorrow, when we cross paths with the TDF one final time for the Tour's last dramatic stage!

Meals: Breakfast / Lunch / Dinner
Destinations: Argelès-Gazost, Col d'Aubisque, Laruns
Accomplished: 37 miles / 60 km, elevation gain: 5,311 feet / 1,619 meters
Accommodation: Château du Palanquey or Château Franc Mayne

Saint-Émilion Time Trial: Stage 20

Saint-Émilion, c'est magnifique! There will be time this morning to stretch your legs with a stroll around the château grounds, but the highlight of the day is the Stage 20 TT. We'll cover some of the course as we ride through the region's rolling vineyards, and we'll also cycle past some of the most important estates on the Right Bank of Bordeaux. After a relaxing vineyard lunch, head back to the hotel and watch with bated breath who will cross the finish line first in Paris tomorrow. This evening, we have much to celebrate at an exclusive wine-paired dinner in Saint-Émilion. Bon Appétit!

Meals: Breakfast / Lunch / Dinner
Destinations: Saint-Émilion, Pomerol, Saint-Christophe-des-Bardes
Accomplished: 32 miles / 52 km, elevation gain: 1,292 feet / 394 meters
Accommodation: Château du Palanquey or Château Franc Mayne

If you're up for it, take one last early morning ride through Saint-Émilion before we board a high-speed train to Paris and settle into our grandstand seats. The City of Light is the center of the cycling world as the TDF crosses the ultimate finish line on the Champs-Élysées. We'll be front and center with VIP passes to witness the world's greatest sprinters duke it out for one last shot at glory and watch the maillot jaune-wearer sip a glass of champagne as he spins to victory. Tonight, we celebrate our own victories in the Pyrenees with a memorable only-in-Paris dining experience.

Meals: Breakfast / Lunch / Dinner
Destinations: Paris
Accommodation: Hôtel Bel Ami

Enjoy a relaxed breakfast and reflect on all the spectacular moments from the past week of the TDF. Our guides will make sure your transportation is arranged to head off to your next destination from the hotel.

Meals: Breakfast
DuVine itineraries may be subject to slight route changes, hotel substitutions, and other modifications.
Arrival Details
Airport City: Toulouse, France
Pick-Up Location: Pre-night hotel in Toulouse or Toulouse airport
Pick-Up Time: 8:30 or 9:00 am
Departure Details
Airport City: Paris, France
Drop-Off Location: Hôtel Bel Ami, Paris
Drop-Off Time: 10:00 am
Travelers Take Note
In order to follow the race stages, this itinerary includes a three- to four-hour van transfer on Day 4, and a three-hour transfer by train on Day 6. Due to the unpredictability of road closures surrounding the TDF, day-of logistical changes may be required.
Please note that electric assist is not available on this tour.
2021
Single Supplement From: $950
Dates

Price

Special Events

Jul 13 – 19

$6,595
Weather by Month
Average Temperature + Precipitation
Average Temperature + Precipitation
JAN
FEB
MAR
APR
MAY
JUN
JUL
AUG
SEP
OCT
NOV
DEC

Accommodations
Thoughtfully selected accommodations that reveal the true character of the region in ideal riding locations
Luggage transfers
Meals
Daily breakfasts, all lunches, and 5 cyclist-friendly dinners at our favorite local restaurants and renowned culinary establishments
Nutritious energy snacks, hydration, and shakes to support endurance and recovery
Local wines and beer with every meal
Activities
Wine tastings and activities as outlined in the tour itinerary
Entrance fees to historic sites, museums, parks, and all other exclusive events
Gratuities for baggage, porters, and hotel service
Gear
Top-of-the-line Cannondale carbon fiber road bike
Complimentary DuVine gear, including a custom cycling jersey, DuVine t-shirt, water bottle, and drawstring bag
GPS with pre-programmed route maps
Support
Expert bilingual guide with extensive cycling experience and local knowledge
Support vehicle that follows the day's route, distributes refreshments, and offers lifts
Pick-up and drop-off before and after your tour from predetermined meeting points
Laundry service provided mid-week
Daily bike maintenance to ensure optimal performance
NOT INCLUDED:
Airfare
Dinner on one free night
HAVE MORE QUESTIONS?
See our FAQs page for answers to common questions.
See FAQs