Loire Valley Family Bike Tour
Region: France
Destination: Loire
Duration: 6 Days / 5 Nights
Level: One
Price From: $4995
Single Supplement: $900
PRIVATE COLLECTION ITINERARY

This tour is part of our private tours collection. Please complete a Private Tour Planning Form to start designing a private tour that is everything you want - and nothing you don't - where, when, and how you want it, to share with whomever you choose. Or, call 888-396-5383 to inquire about joining a future public date that may become available.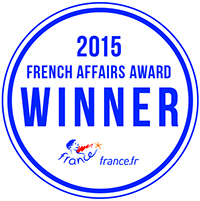 Visit the breathtaking Loire Valley châteaux, including Chenonceau and Cheverny, and learn about their royal residents in the Middle Ages during the Loire Valley Family Bike Tour. Explore the Clos Lucé, da Vinci's former home, and its garden full of life-size models of his many inventions. Cycle over historic bridges spanning the Loire and Cher rivers and through vineyards, choosing itineraries that match your ability level. Forge priceless family memories on this cycling vacation, riding (or paddling!) through villages, relaxing beside hotel pools, painting and scavenging treasures as you go. Discover local specialties as you dine in award-winning restaurants and stay in relaxed hotels and châteaux that are comfortable for you and the whole family.
---
Tour by Day
Day One: Château Cheverny and The Adventures of Tintin
Your guides will greet you at the Blois train station and whisk you off to Cheverny for a light lunch.  A weeklong scavenger hunt has been organized and a sketch book will be given to each of the children to help record all that we learn and see throughout the week.  What will you draw or describe today to create the lasting memories you can relive after this adventure? We'll visit the sixteenth-century Château de Cheverny, the inspiration for Hergé's Marlinspike Hall, Captain Haddock's residence in the Adventures of Tintin.   Then immerse yourself in an interactive visit of Tintin's world, and be sure to visit the chateau's very large family of hunting dogs!  After we've absorbed it all, we'll have a bike-fitting and safety talk before heading off on a scenic spin along the Loire River to our first hotel.  Ride for as long as you are comfortable then arrive at our chateau accommodations for the next two nights. Tonight, we'll indulge in a splendid meal in the town where our chef will spoil us with regional specialties!
Meals: Light Lunch / Dinner
Destinations:  Cheverny, Candé sur Beuvron, Chaumont, Onzain
Accomplished: 10 miles / 16 km
Accommodations: Château des Tertre
Day Two: Once Upon a Time
Today's adventure starts at the Château Chaumont sur Loire, where our young friends will get to explore this magical château once inhabited by Catherine de Médicis. After the visit, we will set up our own art studio on the grounds to record our impressions of the chateau, the astrologer's room, the stables and the impressive kitchen. We'll then enjoy a hearty lunch in the famous gardens before heading out for our ride for the day.  This afternoon will be a nice easy loop on top of the plateau through many fields of grain and sunflowers.  Tonight we'll cross the river back to Chaumont for a true French specialty, crepes!
Meals: Breakfast / Lunch / Dinner
Destinations: Onzain, Chaumont sur Loire, Valieres les Grandes
Accomplished: 13.5 miles / 22 km
Accommodations:  Château des Tertre
Day Three: Amboise, Through Da Vinci's Eyes
Enjoy a morning ride through a panorama of farmlands and the towns of Pocé-sur-Cisse and Limeray. We'll arrive in Amboise and enjoy a gourmet picnic lunch with local wine and cheese on the grounds of the Manoir St. Thomas, our home for the night. Visit the Clos Lucé, a museum with replicas of Leonardo da Vinci's inventions displayed outdoors as an interactive playground, the perfect distraction for the young ones. After some exploring, enjoy a little shopping in town or pedal off to a great local white wine producer to learn about the refined Montlouis-sur-Loire appellation from Olivier, a fifth-generation winemaker. Return to Amboise through the magnificent vineyards and enjoy dinner on your own in the enchanting town.
Meals: Breakfast / Lunch
Destinations: Monteaux, Limeray, Pocé-sur-Cisse, Amboise, Montlouis-sur-Loire
Accomplished: 15 miles / 24.5 km (Longer option: 26.5 miles / 42.5 km)
Accommodations:  Le Clos d'Amboise
Day Four: The Enchanted Castle of Chenonceau
The day starts with a ride to Château de Chenonceau for a tour of the castle and its gardens. Chenonceau is home to a vast collection of Renaissance furniture as well as sixteenth-and seventeenth-century tapestries and artwork. Children will enjoy the fun and interactive iPod tour. Wander the expansive grounds, pet the donkeys at the farm, and navigate the hedge labyrinth before our river excursion on the Cher. Afterward we'll hop in our kayaks and cruise down the Cher River admiring the river banks where the royal families used to dip their toes to refresh. Enjoy a pizza dinner in town tonight, or, if you're feeling particularly adventurous take an optional hot air balloon ride!
Meals: Breakfast / Lunch / Dinner
Destinations: Amboise, Chenonceaux, Civray de Touraine
Accomplished: 21.75 miles / 35 km
Accommodations: Le Clos d'Amboise
Day Five: A Day in Tours
A delicious breakfast rich with fresh fruit, yogurts, bread, pastries, and cheeses will prepare us for an active day in the city of Tours. Today we'll peruse the masterpieces at the Musée des Beaux Arts and visit the gothic cathedral. Today is your last day to complete the week-long scavenger hunt, so pay attention and make sure you find that last gargoyle and pose with a prince if you haven't already!  Stroll around on your own and enjoy some shopping. Once we've had our fill of the vibrant city life we'll shuttle back to the hotel for an exciting fencing demonstration and a little sparring. Relax by the pool this afternoon, soaking in the beauty of the Loire, before one last night of culinary delights.
Meals: Breakfast / Lunch / Dinner
Destinations: Montbazon, Tours
Accomplished: Optional ride of 15 miles / 24 km
Accommodations:  Le Clos d'Amboise
Day Six: Au Revoir, A Bientôt!
After breakfast and perhaps a stroll through the castle's grounds, say goodbye to the Loire Valley and the city of Tours however you see fit. We'll see you off at the St. Pierre Des Corps TGV train station where you head on to your next adventure.
Meals: Breakfast