Sonoma Wine Country Women's Bike Tour with Lentine Alexis
Region: North America
Destination: United States
Duration: 4 Days / 3 Nights
Level: Two
Price From: $2895
Single Supplement: $750
PRIVATE COLLECTION ITINERARY

This tour is part of our private tours collection. Please complete a Private Tour Planning Form to start designing a private tour that is everything you want - and nothing you don't - where, when, and how you want it, to share with whomever you choose. Or, call 888-396-5383 to inquire about joining a future public date that may become available.

Join accomplished cyclist, writer, recipe developer, and the pastry chef behind Skratch Labs Cookie Mix, Chef Lentine Alexis, on this women-only bike tour through Sonoma County. Revel in stunning views of California's dramatic coast as you cycle along Bodega Bay. Ride beneath the canopy of California's towering redwoods and explore the endearing town of Healdsburg. Acquaint yourself with the region from its waves to its wines, fueled by inspiring conversation and female camaraderie. Along the way, you'll be treated to delicious meals at Lentine's favorite spots that showcase Sonoma's bourgeoning food and drink culture.
---
Tour by Day
Day One: Welcome to Sonoma
Lentine and your guide will meet you at the San Francisco Ferry Building to peruse the Farmers Market and pick out seasonal produce and artisanal goodies for tomorrow's picnic lunch. We'll then head north to the Marin French Cheese company, the starting point for our ride past Sonoma's rural ranches and pastoral farms. Lunch on Tomales Bay includes a taste of freshly shucked oysters before we ride toward the rugged headlands of Bodega Bay. Tonight, the weekend kicks off with an exquisite meal at Michelin-starred Terrapin Creek.
Meals: Lunch / Dinner
Destinations: SF Ferry Building, Marin French Cheese Co, Tomales Bay, Bodega Bay
Accommodations: Bodega Bay Lodge
Accomplished: 40 miles / 64 km, elevation gain: 884 meters
Day Two: Cycle Through Redwoods
This morning we pay a special visit to Wildflour, Lentine's favorite bakery in Sonoma. You can choose to hop on your bike right after breakfast, or transfer back to the hotel for a shorter route starting along the Pacific Coast. Our ride veers east into the coastal range and arrives at Armstrong Redwoods State Park. Gaze skyward at the 1,400-year-old trees towering over 300 feet, then settle beneath them for a picnic lunch prepared from yesterday's market finds. This afternoon, continue riding along the Russian River or catch a lift in the van. We'll stop on the historic West Side Road to taste crisp Chardonnays and velvety Pinot Noirs at our favorite winery en route to Healdsburg. Tonight, we dine at one of Lentine's most beloved Healdsburg restaurants.
Meals: Breakfast / Picnic Lunch / Dinner
Destinations: Armstrong Redwoods State Park, Russian River Valley, Westside Road, Healdsburg
Accommodations: Hotel Healdsburg
Accomplished: 47 miles / 76 km, elevation gain: 579 meters (Longer option: 65 miles / 105 km, elevation gain: 853 meters)
Day Three: Dry Creek and Alexander Valley
Opt for an early ride along Chalk Hill to accrue an extra few miles. We'll all meet up at the quaint Jimtown Store for coffee before continuing through the Alexander Valley toward Dry Creek Valley. At Preston Farm and Winery, a family-operated organic and biodynamic property, we'll snack on homemade bread and olive oil and sip more wine, if you wish. Lunch will follow at Dry Creek General Store, a Healdsburg mainstay. In the afternoon, take some time to explore the town's tasting rooms before we meet up for a very special farewell dinner.
Meals: Breakfast / Lunch / Dinner
Destinations: Jimtown Store, Preston Farm and Winery, Chalk Hill, Alexander Valley, Dry Creek Valley
Accommodations: Hotel Healdsburg
Accomplished: 40 miles / 64 km, elevation gain: 457 meters (Longer option: 55 miles / 88 km, elevation gain: 670 meters)
Day Four: Healdsburg
Your final day can begin with an optional spin or a leisurely stroll around Healdsburg's town square. Around midday, we'll head back toward the Bay Area, stopping in Petaluma for lunch and beer at a local brewery. Then it's back to San Francisco where it will be time for us to say farewell to old and new friends.
Meals: Breakfast / Lunch
Destinations: Healdsburg, Lagunitas Brewery
Accomplished: 20 miles / 32 (Longer option: 40 miles / 64 km)
About the Chef: Lentine Alexis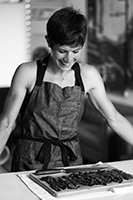 For Chef Lentine Alexis, cycling and food are intricately connected in a delicious cycle; her insatiable hunger as a professional endurance triathlete inspired a hunger for food and cooking that could only be satisfied by professional culinary study, and the recipes, menus, and meals she creates are best enjoyed and appreciated when senses are heightened after a nice bike ride.
Lentine graduated from the Le Cordon Bleu with a Diploma in Pastry Arts in 2010, but her education as a Chef began long before. Some of her earliest memories are spending time in the kitchen when she was small enough to fit in the sink or hide in the cabinets below the work surface, watching her mother mix cookies in the stand mixer. From gingerbread boxes baked to hold Christmas gifts to The Best Sugar Cookies on the planet, her mother's love for baking inspired Lentine at a tender age to explore in the kitchen as well, so much so that when her mother was diagnosed with Celiac Disease, Lentine took it upon herself to manipulate her family favorite cookie recipes with gluten-free flours (and to continue trying after failing miserably in the first attempts).
Lentine left for undergraduate school reluctantly with a computer instead of a Kitchen Aid stand mixer of her own (despite pleas to her parents). Instead, she settled for a Tupperware box beneath her dorm room bed filled with cookie ingredients at the ready for late night baking and settled into her routine as a student-athlete with sights set on a career in international diplomacy.
As her focus narrowed to a well-paved professional path, she began traveling the world, working, studying, and exploring in Europe and Asia. As she moved, her culinary curiosity continued to grow, eventually coloring the travel and life experiences she was collecting. While living in Southern Japan, she began training for her first long-course triathlon as a means of managing an over-active mind, and accidentally won the race (and a kilogram of rice)! Something clicked over in her, inviting her to put her intensive career goals on hold. Shortly thereafter, she obtained her professional racing status and dove into a 8+ year career as a triathlete focused on discovering how to push her body and mind at the highest competitive levels in both Ironman and ITU Long Course.
The longer she trained, the deeper her hunger to fuel her body with real, nourishing food became. Living abroad and in the absence of readily available "energy foods," she spent her non-training hours developing recipes in her home kitchen, playing with ingredients, and uncovering questions about the chemistry of baking. Upon returning to the United States, she continued training and racing while pursuing an intensive culinary education, eventually finding a home in the bakeries of Portland before moving to Los Angeles to work as a stage and pastry cook in the renowned Providence L.A. kitchen. However, the prestigious kitchen surroundings soon felt unfulfilling; the lifestyle of professional kitchens was not conducive to that of a life-long athlete, and the creative culinary fire that seemed only to burn when she was out running, riding, or exploring in nature began to suffer. She stepped away from the culinary world in a traditional sense, certain that if she was meant to benefit the world's well-being, she was meant to do so through healthy, delicious food and inspired self-transformation.
Before long, Chef Alexis found a home working with Skratch Labs as a recipe developer, crafting the Skratch Labs Cookie Mix in her home kitchen. She went on to consult on products, direct culinary programming out of the famous Skratch Labs Food Trailer, and create content and inspired recipes and menus for the company's blog. This work deeply informed the science of her sport, and the way that real food fuels (and nourishes) athletic, active lives.
Today, Lentine works with chefs and athletes traveling the world over to create meals and curate culinary experiences for all abilities. She hosts events, speaks, cooks, and contributes to international publications and brands including Triathlete Magazine, Bicycling Magazine, Rapha, Strava, UnderArmour and Liv Bicycles. Her work showcases her style rooted in the culinary traditions of California, Italy, Japan and Asia-At-Large; she weaves in sensory memories of these locales that contributed to her deep hunger to improve the well-being of communities through food, and shaped her as a woman and a Chef. Passionate about sharing the way food and lifestyle collide to create culture and well-being, she is actively involved in organizations that support children's advocacy and hunger relief, and works closely with ChefsCycle/Share Our Strength and World Bicycle Relief both in the U.S. and abroad.
Though she's hung up her running shoes (for the time being), Lentine still rides avidly and travels the world with her bicycle whenever she can, collecting sensory and culinary experiences, and allowing what she sees, smells, and experiences on her bicycle to inspire her cooking when she returns home.